5.30.2008


Yesterday was a really big day for Darkseid's Revenge. It's not every day you get to preview a card for a TCG you love, of a character you love. I think the card was well received by the players and I hope for those of you that just come to the site for comic reviews you might have been intrigued by the game inspired by the comics. Today gets better as we roll out the red carpet for Thor #9.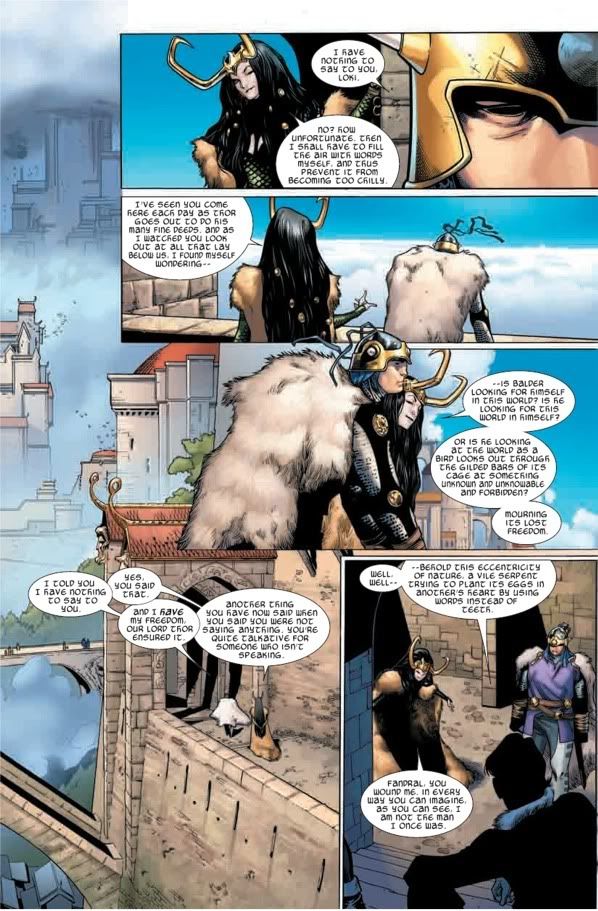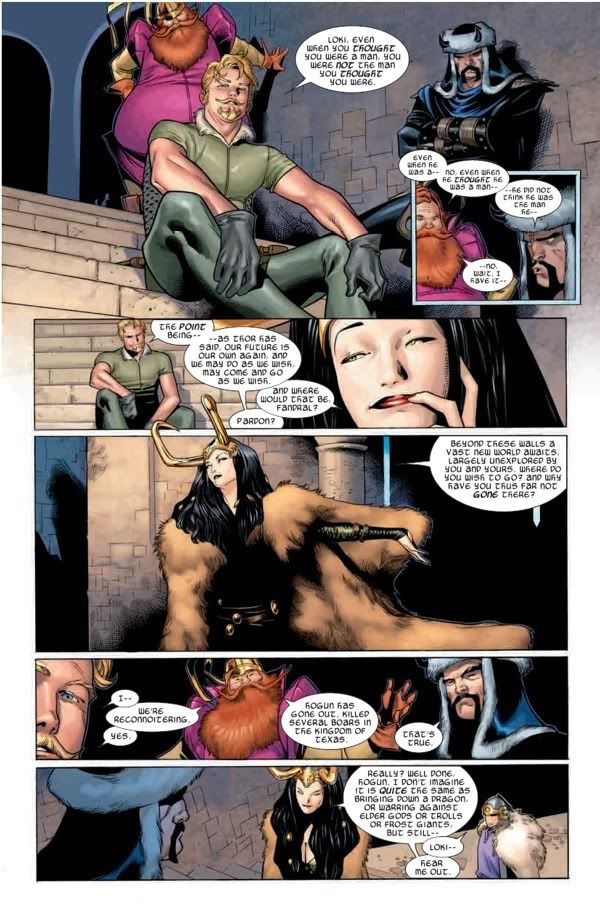 J. Michael Straczynski really I mean really knows how to weave a story. That is probably the best way I can describe what he is doing with the Thor series because it is nothing short of miraculous. After reading this week's issue I went back and read issues #1-8 because I wanted to really capture what was going on in the story. This issue dealt very little with Thor and more with the rest of the Asgardians, Balder most of all.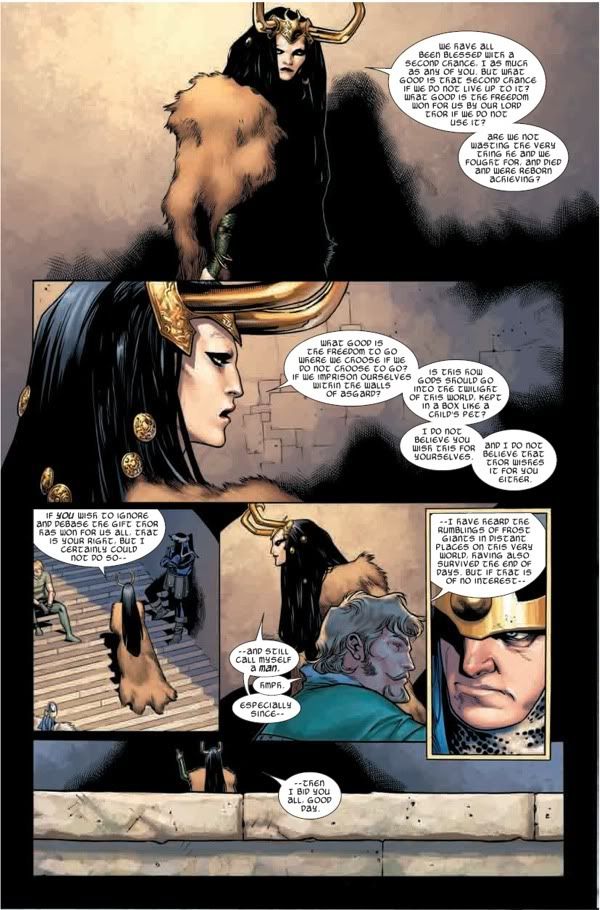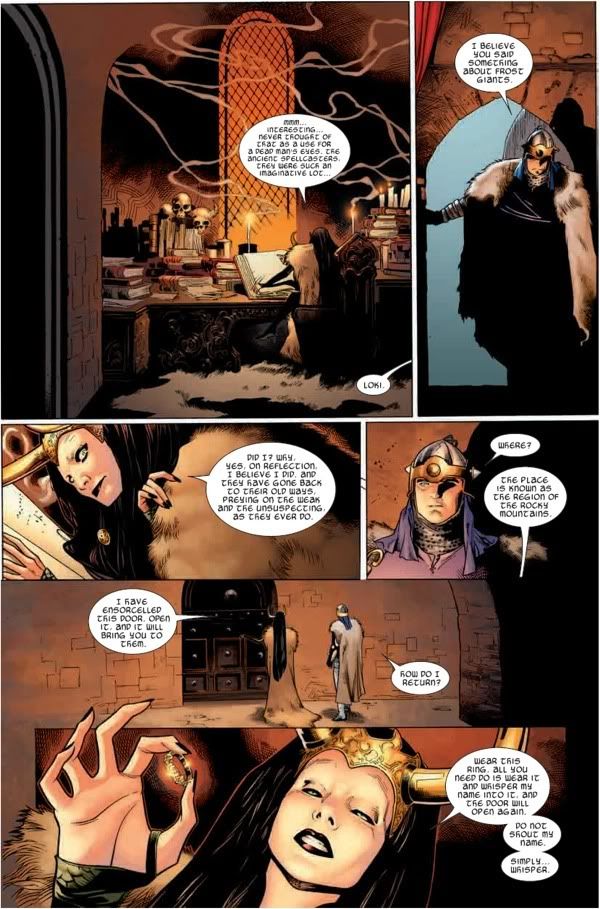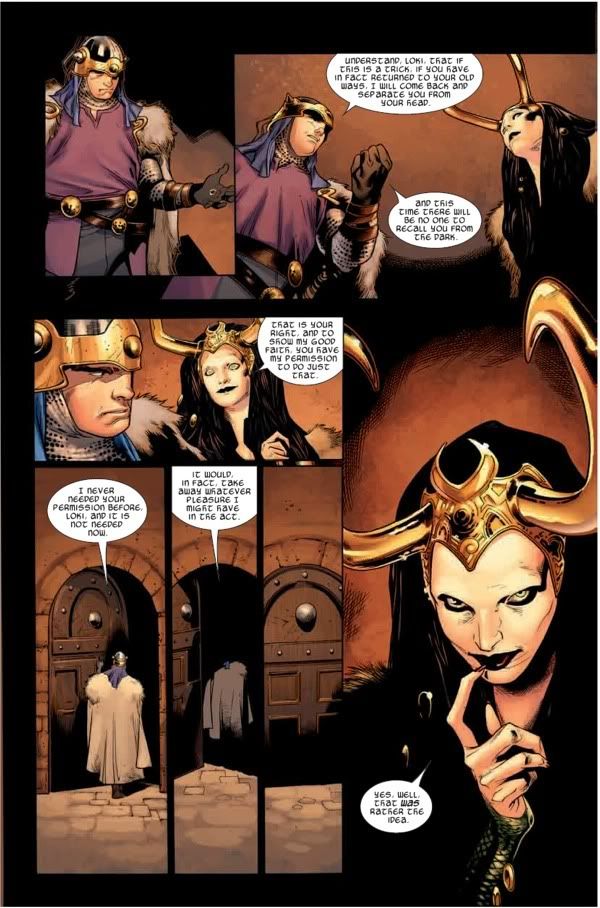 For those who do not know what has happened in Thor so far you can read the reviews and check the scans of back issues here on the site, but it would probably be best if you went to the comic store and grab copies from the shelves because you really need to read panel for panel to get the pace and full picture Straczynski is painting. I know a lot of people were not happy with Straczynski's work on Spider-man lately, but he is revitalizing the Thor character with great success.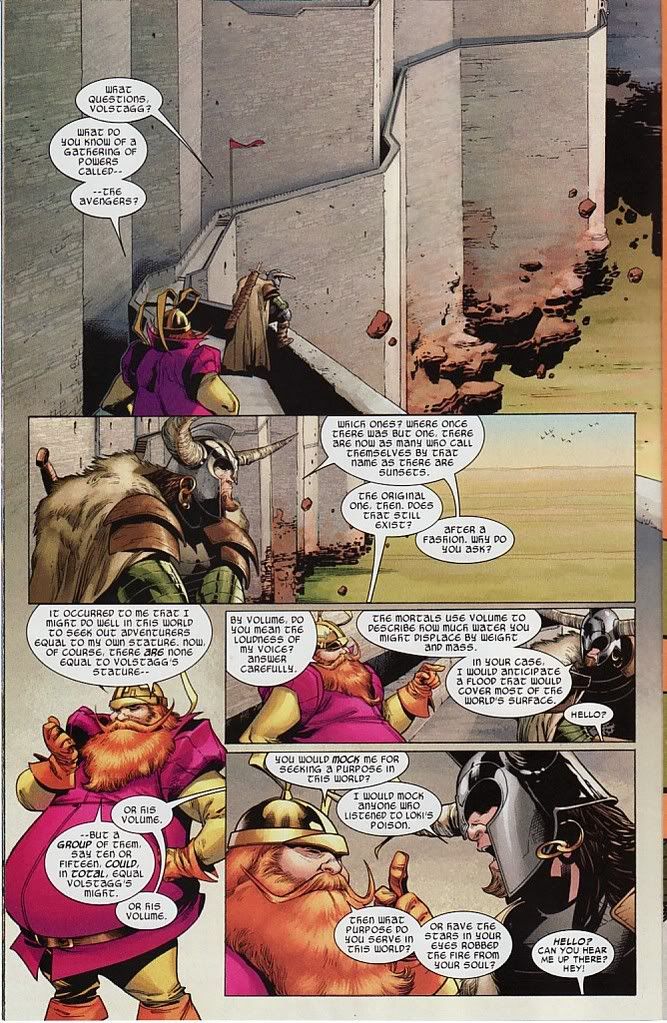 In Thor #5 it was revealed that at the end of Ragnarok Balder was trapped within the Destroyer, feeling guilty for not preventing Ragnarok. He fought Thor as the Destroyer until Thor freed him from the armor. Balder obviously still feels this guilt and confusion 4 issues later as he is still questioning his place in this new world and his identity. Straczynski paints the picture of a man who has lost himself well and what perfect opportunity this is for Loki. Loki begins sowing the seeds of doubt as mischievous as she will ever be into Balder's mind the moment Thor#9 begins. I can't say I am surprised, Loki was going to become a pest at some point for Thor; I just hope this doesn't become a recurrence and become way too familiar. We have seen Thor down this road and we do not need Loki even as a woman to be his lone nemesis.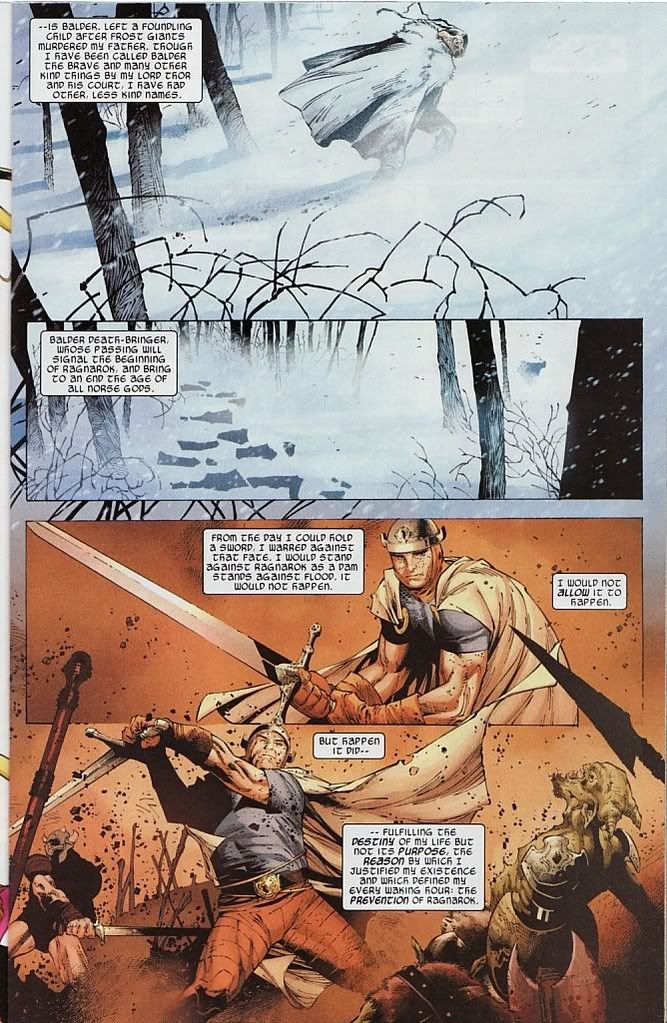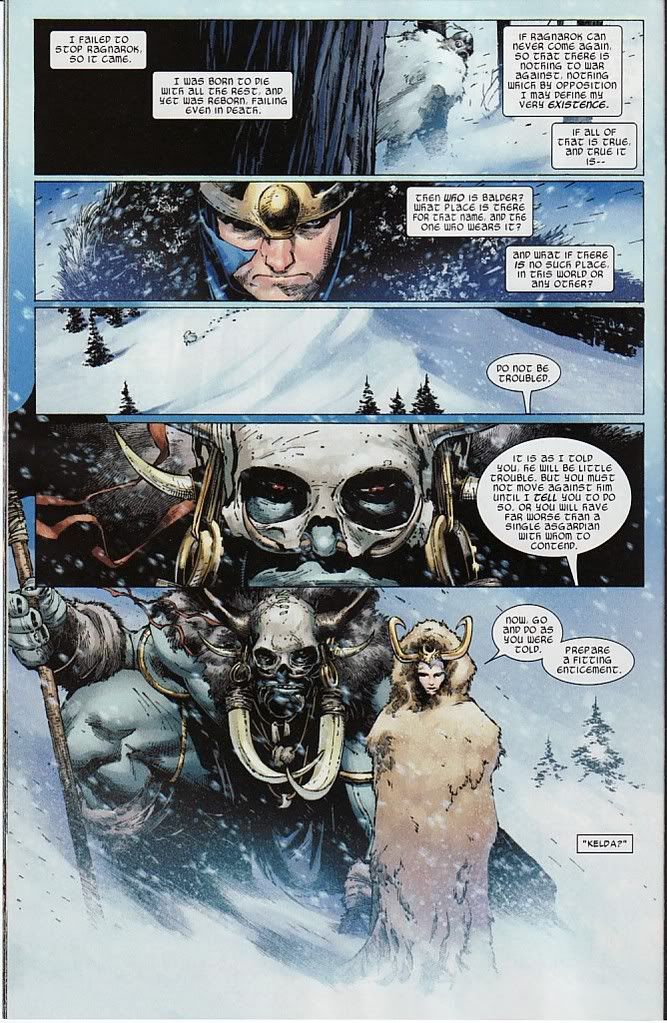 Loki tricks Balder into going to the Rocky Mountains to looks for trolls who apparently also survived Ragnarok and were reawakened by Thor. Balder easily dispatches of the Trolls, but Loki joins the fray as if she did not set the whole thing up gaining a little bit of Balder's trust in the moment. I don't think Balder is this stupid, but I am interested in seeing where Straczynski is taking this story because at the end of Thor #9 Loki reveals that Balder is actually the son of Frigga and Odin and therefore a rightful heir to the Throne of Asgard. How true this is may be questionable although Straczynski uses Fandral to possibly hint at the fact that there may be some truth to this interesting development.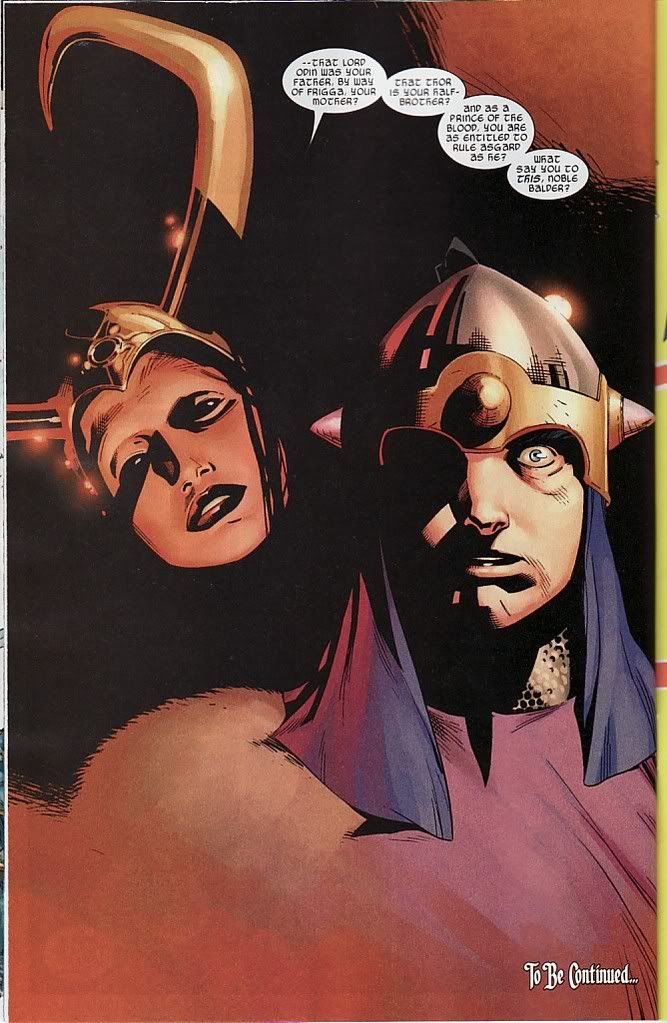 As the main story this is definitely interesting and will keep me in suspense until Thor #10. Even more interesting is how Straczynski reveals more of Asgard to us, little by little rewarding us with bread crumbs as to how the Asgardians plan to integrate themselves into this new world. There is a part in the story where an Oklahoman man begins courting an Asgardian named Kelda. He is allowed into Asgard and there is some very fun interaction here as many of the Asgardians are curious about him as he is about them. Kelda seems knowledgeable about Asgard and may be a source of information later in the series. I can't say I remember her character in the history of Thor and this is the second time she has been "spotlighted" by Straczynski so her role could be important.

In another side story we see Volstagg having a discussion with Heimdall about possibly joining with Avengers. Heimdall makes some remarks that make the reader aware that the Asgardians are aware of the ongoing of the world outside the wall of Asgard despite none venturing fourth. There was definitely a lot going on in this issue and it was definitely a good read even though you really do not get much of Thor.

Interesting enough is how Straczynski begins to portray the relationship between Thor and Balder. It is almost very Thor-Odin-like in translation. Thor comes across like Odin, overprotective and tight-reigned. Balder appears a lot like Thor in some respects.

Vote for Darkseid Revenge also join me for Comic Book Discussion on TCGplayer.