5.08.2008


Secret Invasion should be ramping up and getting into high gear in Secret Invasion #2, but what I really feel is like it is throttling down. This issue felt more like a filler or tie-in than anything else. For fans that love slugfest with their favorite heroes depicted then go pick up the comic, you may even be disappointed. The fights are not even depicted in the panels.




I'm getting ahead of myself, let me slow down. If you haven't read Secret Invasion #1then go back so you can see how much story was revealed and how much plot was opened with questions. Now after you have picked up that issue, look at the scans and even the summary I have put up on my blog then come back and continue reading this.




None of these questions were answered or explored. No further depth to the story was added. What we got was a 22-page issue of brawling between the Mighty Avengers and the Skrull impostors. The most interesting aspect of this battle is watching both sides try to decipher who really is a Skrull and who is not. We get a little reveal in the plot that not even the Skrull impostors seem to know they are Skrull impostors. It is revealed toward the end of this issue that one of the heroes amongst the Skrull impostors is "actually" Mockingbird, Hawkeye's wife. So that adds a new layer to the story because for those that know, Mockingbird has long been thought dead. Funny enough she believes that the Captain America leading the Skrull Impostors is the REAL Captain America, well that isn't even an effective ploy because we know Joe Quesada said Captain America is dead and won't be returning, unless he made some Clinton-esque faux pas then we know that is a Skrull.




The fight scenes are not depicted very well either, it's more face to face yammering than actually ever seeing a blow really connect. For instance in one panel we see the two Spider-men yammering at each other about how annoying the other is. A couple of pages later we have a dead Spider-man who is a Skrull. Well then, who put him down and how?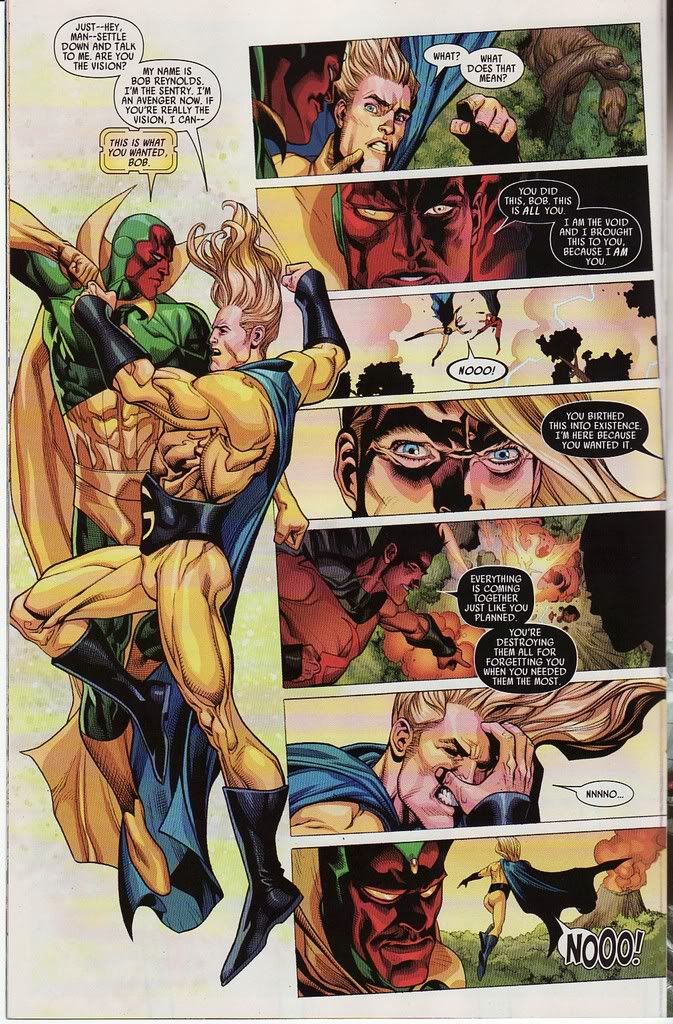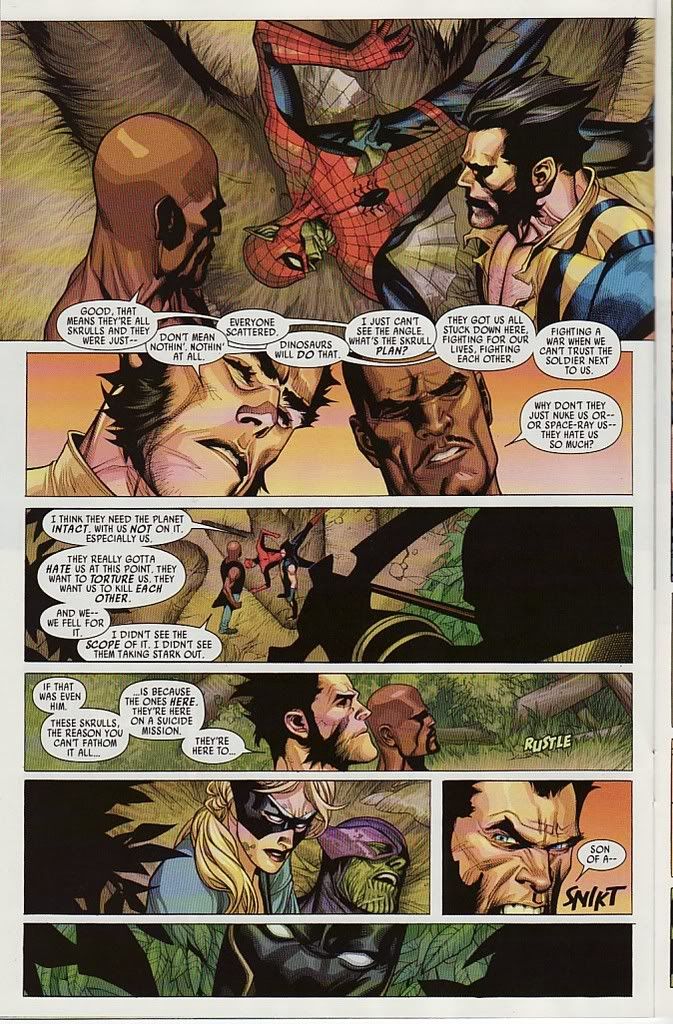 There really isn't much to walk through on this issue. The biggest, wow moment, of the issue is seeing the actual Skrull invaders land in New York City, it is an Army of Super-Skrulls laced with the powers apparently of various villains and heroes.

Michael Bendis revealed in an interview with EW.com that the Skrull invasion is not as simple as they want to destroy Earth, that isn't even the case, but there is a whole layer to this.

"Once the Skrulls announce their intentions to the world, they say, ''You're destroying your world, the way you live. One of you will live in excess right next to someone who's starving, and none of you do anything about it. Our system works. Our system is complete. We're coming to give it to you.'' For some people, that's a damn attractive offer. They don't feel like they're being invaded. They think, ''Finally someone's here to save us.'' So what's right or wrong?" – Michael Bendis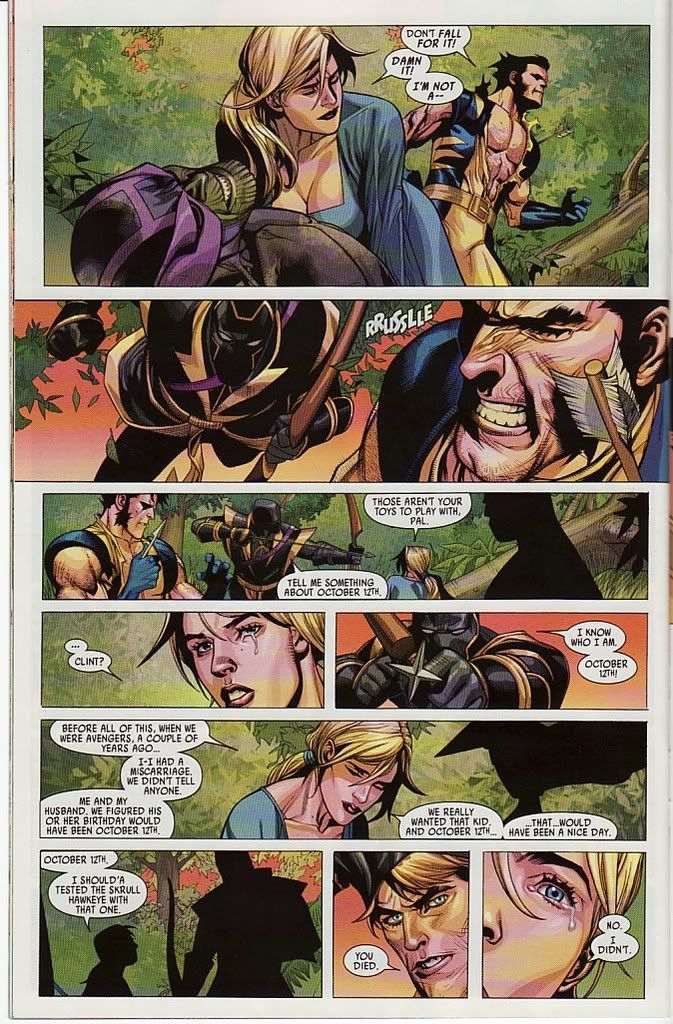 I was hoping for that to be explored more in the Secret Invasion #2,at least answer the questions that were proposed in Secret Invasion #1.

Leinil Yu's artwork and Michael Bendis' writing seem to go hand in hand and when it works it can work, but if it doesn't it isn't any good, everything in this issue has fallen flat. The best part was reading the preview for Eternals #1 which you can bet your bottom dollar will be reviewed here on Darkseid Revenge. Yu's art style has never been a favorite of mine and Bendis has a knack for compressing storylines, but this filler issue just wasn't worth the 4 dollars and a month wait.




Funny enough, Mighty Avengers #13 was a lot better and had better content, funny that was written by Michael Bendis as well. For some reason it does seem as if he has mixed the two series because Secret Invasion is following the Mighty Avengers all over the place, while the Mighty Avenger series seems to be a whole new series following Nick Fury forming the new Howling Commando's 6 months before Secret Invasion #1… we will get into that more later with the review of Mighty Avengers #13, which will be up today.

Enjoy the Scans that are up now! Vote for Darkseid Revenge on VS Network!