6.03.2008


First off, I want to congratulate the guys over at "The Ring has Chosen" for winning this months Vs. Hero of the Month! There shows are something that has been running around the community for quite some time and they really deserve all the accolades, before blogging to promote this game was such a big deal these guys were pumping out quality content. I want to also thank TBS and the rest of the guys over there at UDE for even considering my blog as part of the contest. Thanks for letting me crack open MUN digitally by being the first player to see the real God of Thunder and having the privilege of reviewing it. That was a huge honor. Hopefully I can continue to crank out these reviews for the comics we all love that shape the future of our game, there is always next month, so good luck to the guys promoting the game around the blogosphere and thanks for your support here at Darkseid's Revenge. Now let's talk Hidden Gems.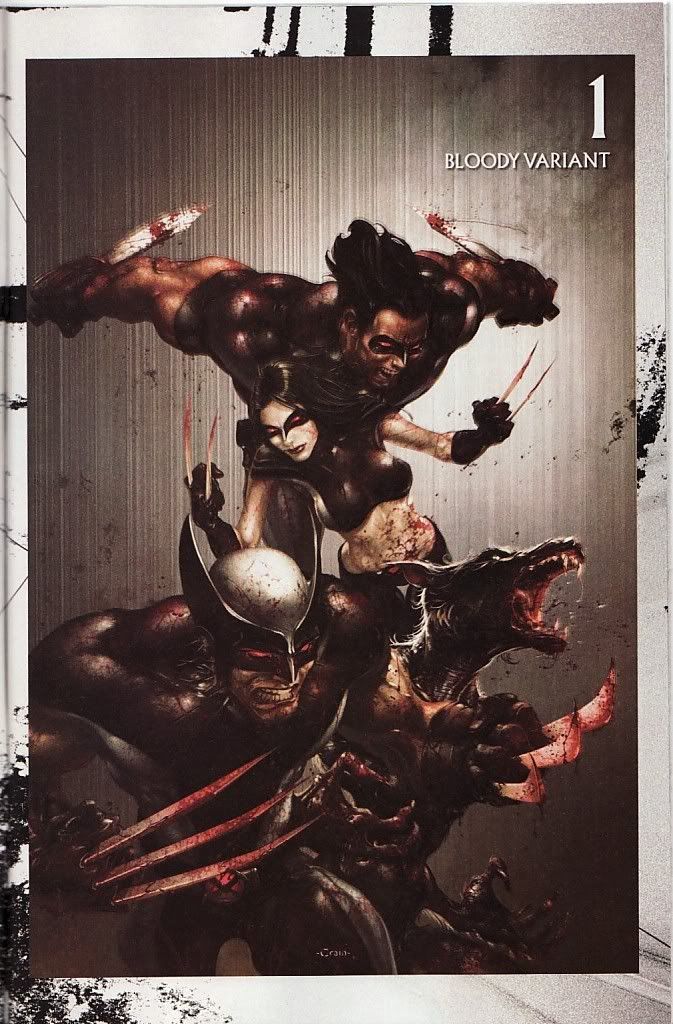 I mentioned Hidden Gems a little while ago in one of my post ups and mentioned that Moon Knight would be the first of the series, but then I picked up another issue and didn't feel so comfortable with the thought of premiering Moon Knight as a Hidden Gem because I couldn't rightfully tell people to go pick up the comic on shelves, especially, if I didn't feel the material was up to par. So I sat that in the stable and began searching for new titles that could possibly take the spotlight as a Hidden Gem. This past Wednesday I found the title, X-Force.


"There are lines that the X-Men have sworn never to cross."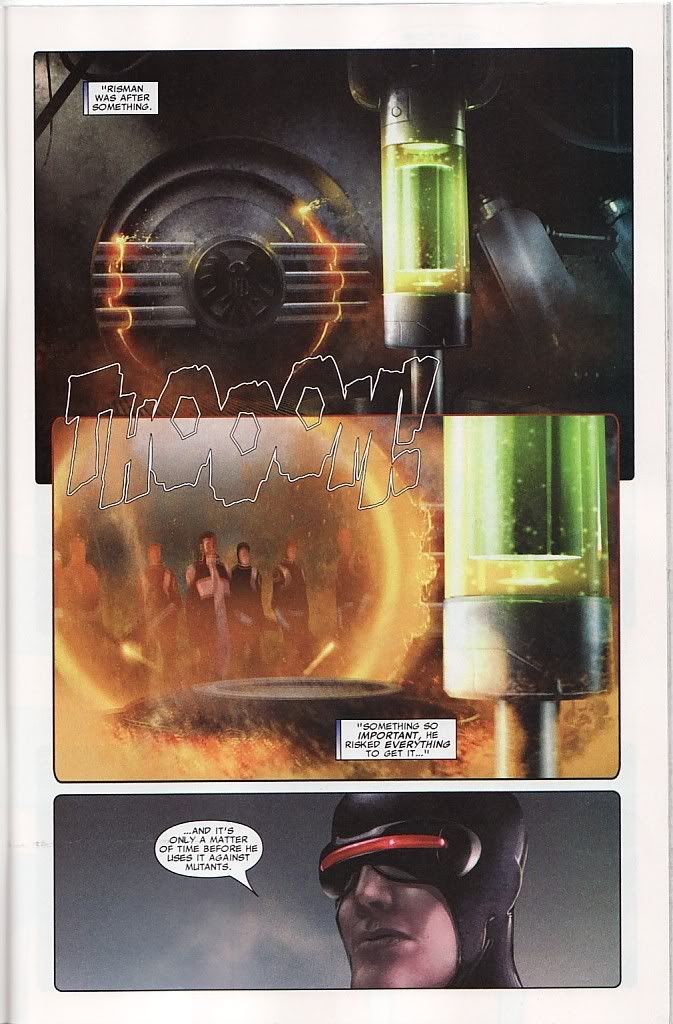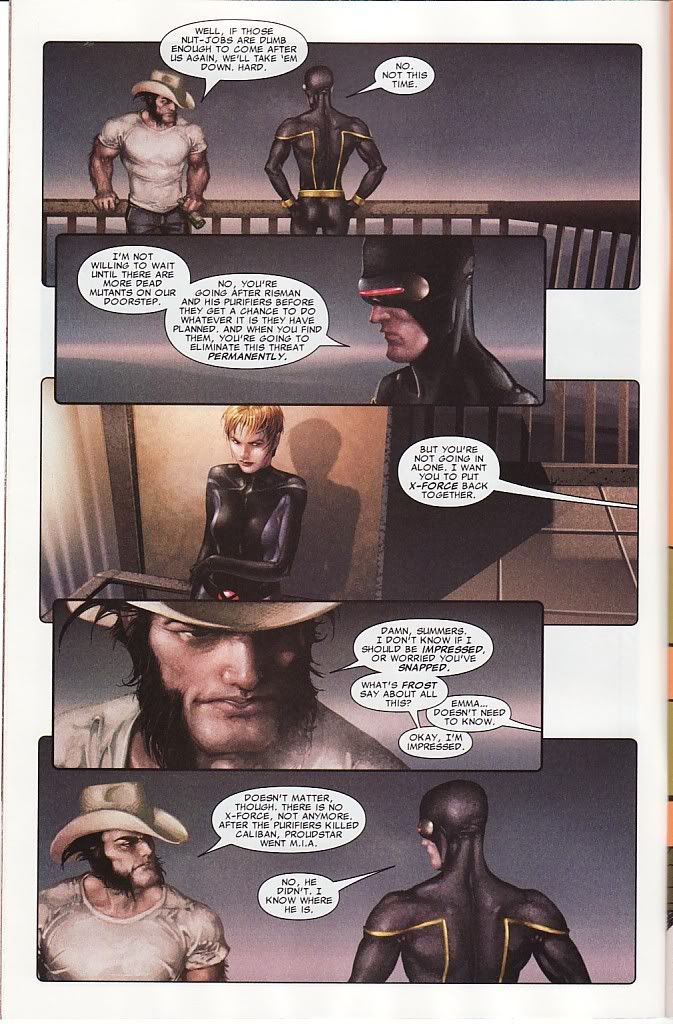 X-Force is Darkseid Revenge's Hidden Gem this week. I can't really say it is hidden as I had always known it was on the shelf since I was reviewing Cable. X-Force's existence owes a lot to that storylines beginning. I just never picked up the title because it was a new start up of an X-Title. I hate most things X-Men related, well maybe not hate, just tired of going to the comic store and finding X-Titles flooding the Marvel shelves every week. Bryan Hitch's cover is what really drew me to the comic though.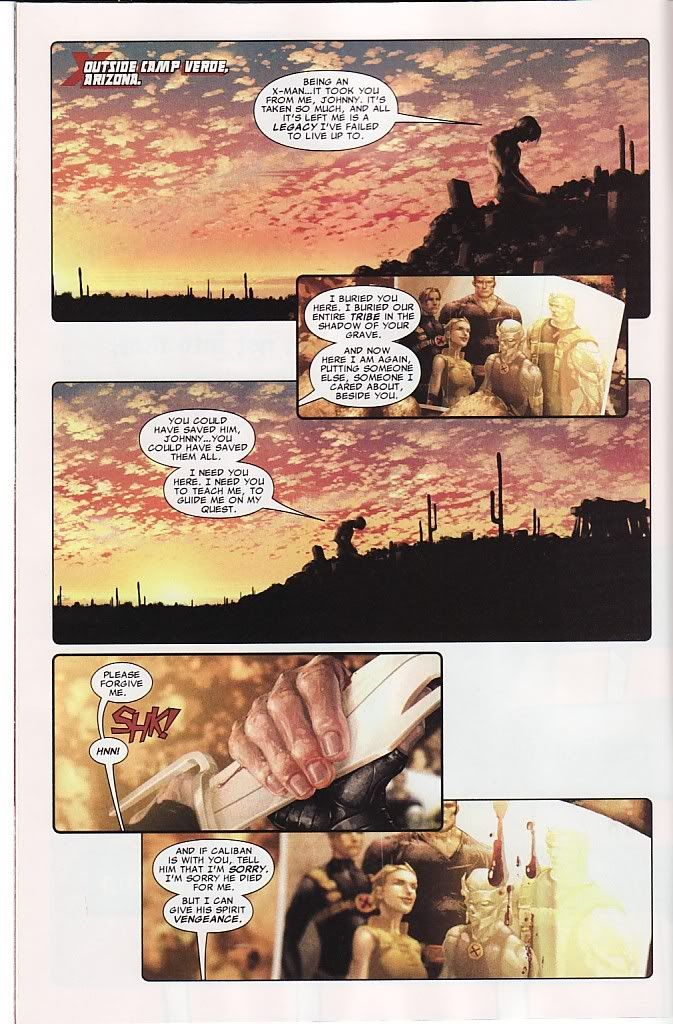 This week I was in the store and I was looking on the shelves for possible titles I might be missing out on since most often I just call in to the comic store and have comics added to my box, so I rarely look through the shelves. Oh, I remember what it was, Showtime I believe, told me to check out Initiative and I was going to grab that to thumb through it and see if it was a title I wanted to pick up. Either way, I saw the cover to X-Force #4 and was stunned by the Cover art. I can't say I haven't seen the art style before, but it was very dynamic, very similar to the work being done on the Cable ongoing series. I figured the series was still early enough in development that grabbing the previous issues and playing catch-up wouldn't be a bad thing, not to mention this was a team that has yet to see play in Versus, even if they are intrinsically linked to the X-Men team. I am going to Fantasy out this team in my VS Reflection series with a heavy KO by Vengeance type effects.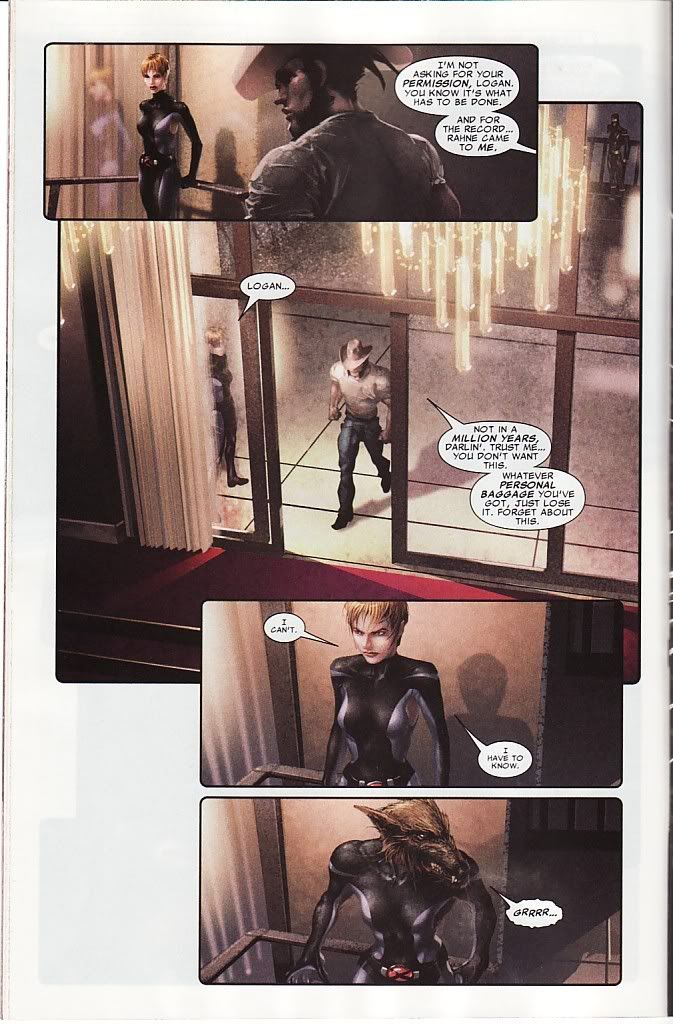 Okay so I grabbed the previous titles and let me tell you this is a story worth reviewing and worth picking up off the shelves. The action and writing is so different from the X-Men titles. It actually reminds me more of the Hulk vs. Wolverine storyline that was scrapped awhile ago. To quote a line from the EliteXC Saturday night fights on CBS, the writers seem "very comfortable with violence" and the art depiction of that violence is excellent.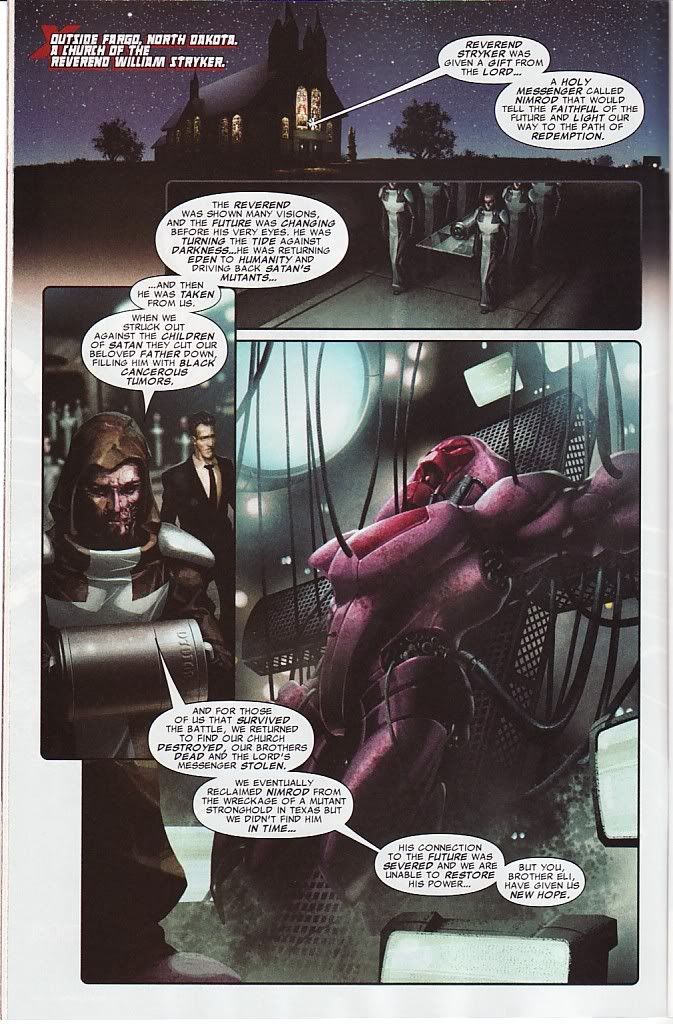 Let me slow down. I think I have enough scans up that you can see how gratuitous the violence is. Let me let you in on what's going on in the series. Cyclops the leader of the X-Men has decided that X-Force needs to be restarted, to do the things that X-Men would never do, and the first misson is to assassinate Matthew Risman, the leader of the Purifiers. Yeah, I know you need to know who the Purifiers are and I will get into that, but let me first tell you about the X-Force team. The members of the X-Force team are the X-Men's most skilled Hunters and Trackers with Wolverine leading the way. At the beginning of the series Wolverine is impressed and pissed at Scott for his choice in members, two members in particular; Rahne Sinclair, Wolfsbane and X-23. Warpath is the other member, apparently Scott isn't stupid and he has a reason for picking everyone he has. The mutant Morlock, Caliban, was killed by the Purifiers and Warpath is looking for revenge. Wolfsbane is joining up because her father has joined the Purifiers and she wants to put him and the Purifiers out of commission, now that is an interesting relationship dynamic and apparently serves as a major back drop to the main story. If you don't know why Scott would choose X-23 then you probably should Wikipedia this Wolverine Cloned Assassin.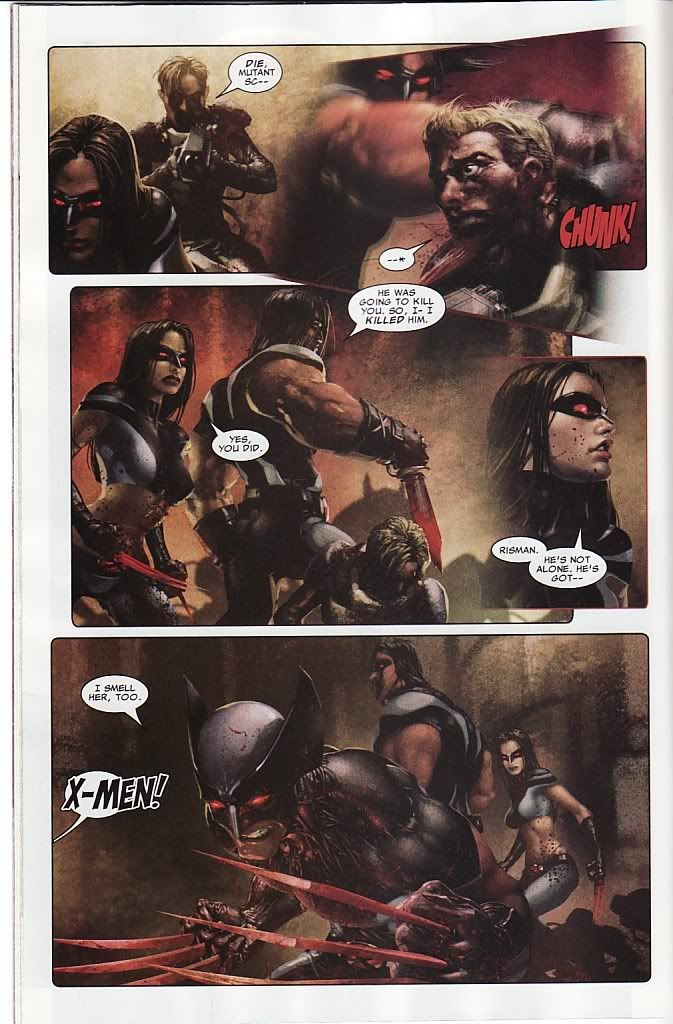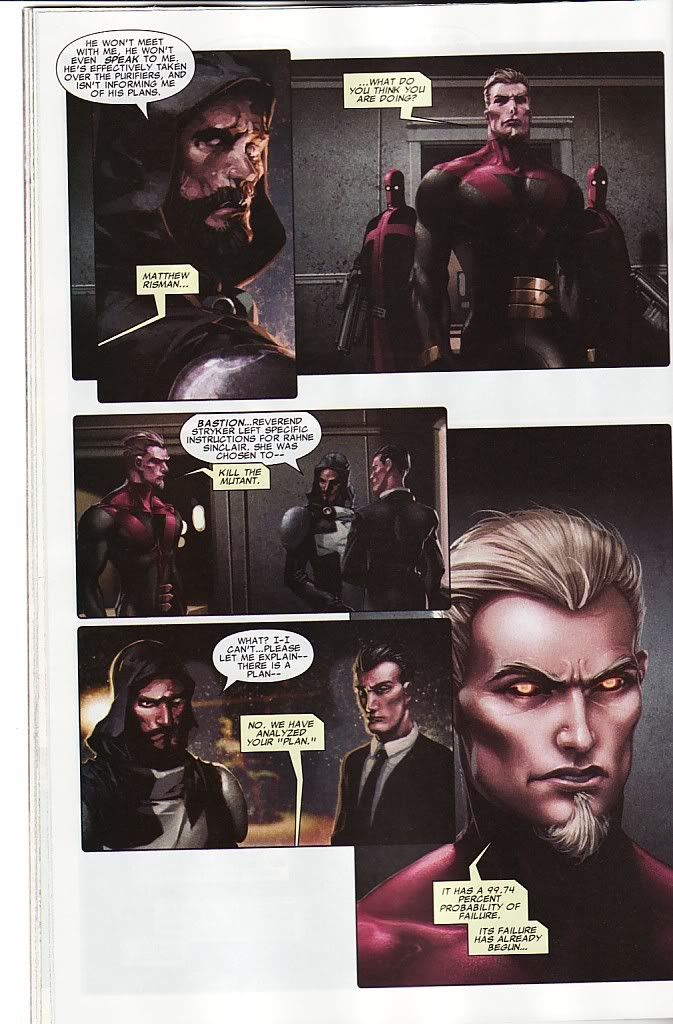 For good or bad though this is the team Wolverine must reluctantly work with. He doesn't think the other 3 have the stomach for the dirty work they will have to perform, but over the course of the first 4 issues they prove to be very "comfortable with violence." The first issue got rolling really quick and the story rolled out at a very fast pace. This isn't an issue where any new fan could just pick it up and understand everything going on. The X-Force team members are not explored at depth and the relationship dynamic is pieced together as it moves along. So if you don't know the team members you are really left to identify with their rather high attitude for killing, which is not a bad thing.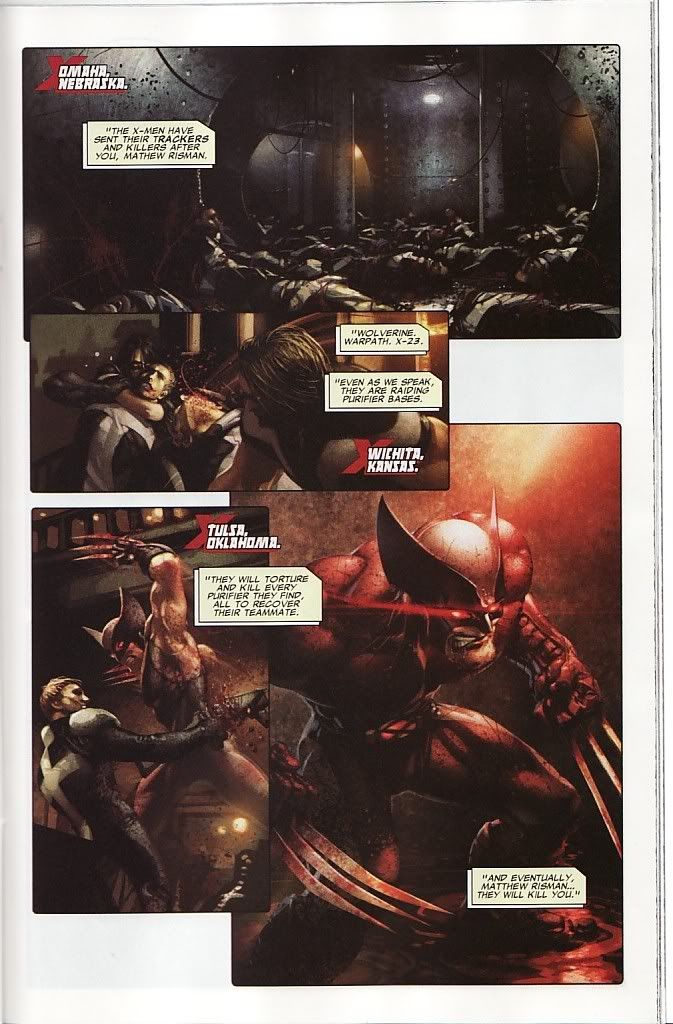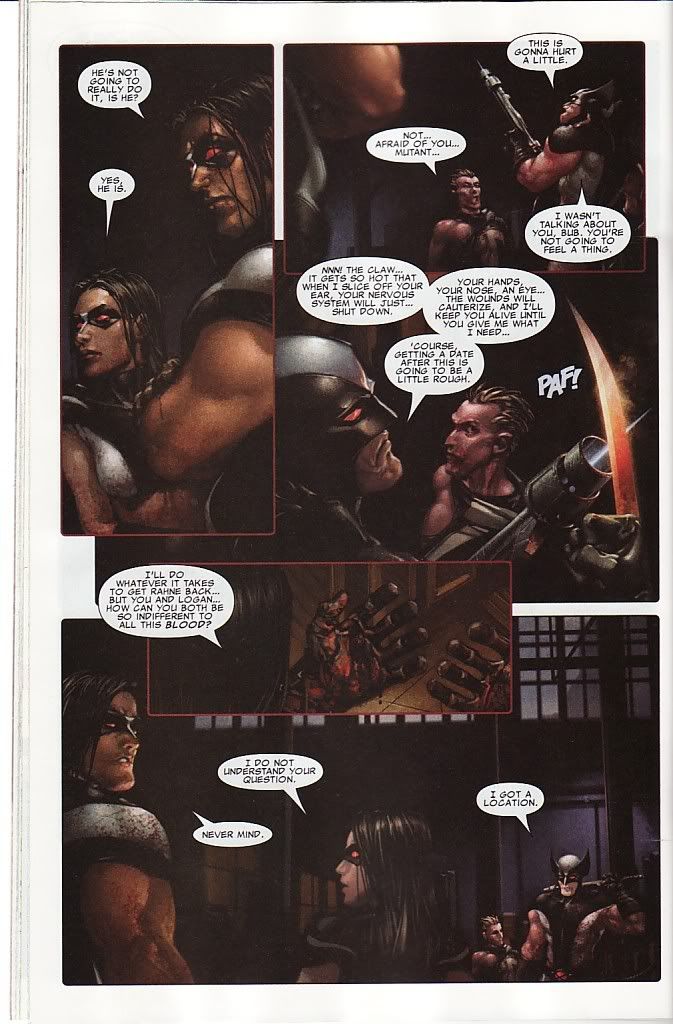 In the first issue we are introduced to the leader of the Purifiers, Matthew Risman and we see what his goals are. The story moves quick and the Purifiers have infiltrated a S.H.I.E.L.D. base in order to steal a liquid of some form that will apparently be used to kill of the rest of mutant kind. I was lost here as well, but the next pages cleared everything up. Apparently Matthew Risman has acquired the body of Nimrod and the head of Bastion. Oh, You don't know who these two guys are? Yeah, that's exactly where I was, so I dug up some info on Wiki to figure out just who they were. The easiest thing to know is that these two have joined together before, and they are being rejoined here. (Bastion looks pretty bad ass, very Adam Warlock like!) Well Bastion doesn't waste anytime taking the reins of the operation and pushing Risman aside to act as the leader of the Purifiers. Bastion has better ideas than the flawed plans Risman and Stryker had for the eradication of mutant kind. (Rev. William Stryker was the leader of the Purifiers before he was killed by Elixir, boyfriend of Wallflower in the X-Men: Decimation series.)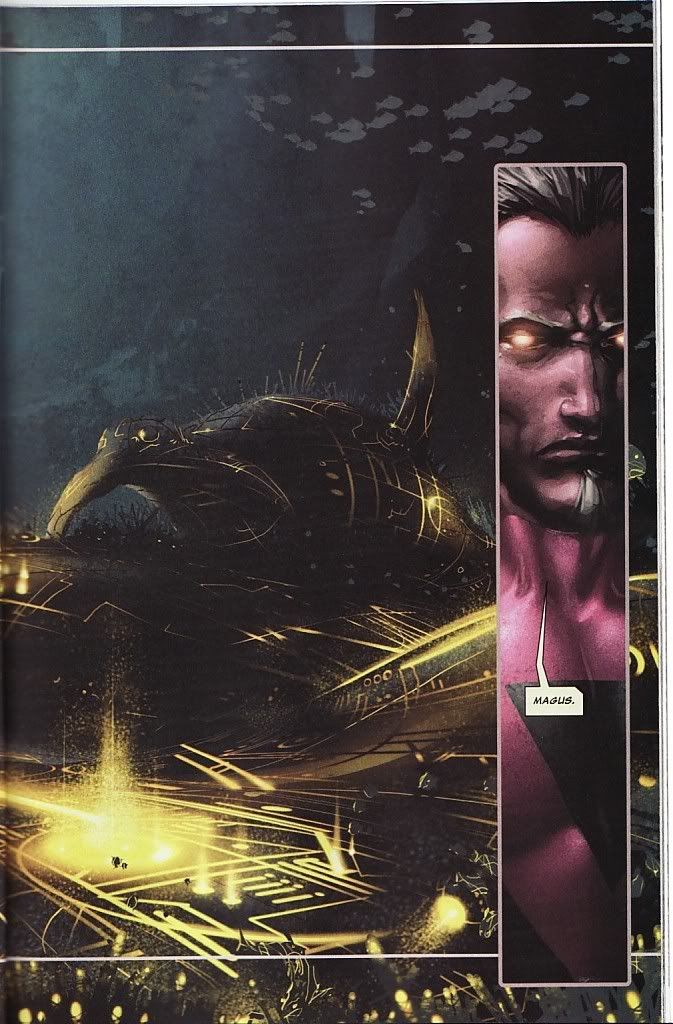 Risman is not too happy with the ungrateful attitude Bastion is displaying for his part in his resurrection, but Bastion could care less. Risman has his own plans despite Bastion telling him to forget about them, I have to say I can't wait to see how X-Force is going to upset this two pronged attack from the "co-leaders" of the Purifiers, Risman and Bastion. As of X-Force #4 thought it looks like the X-Men are on the counter-offensive.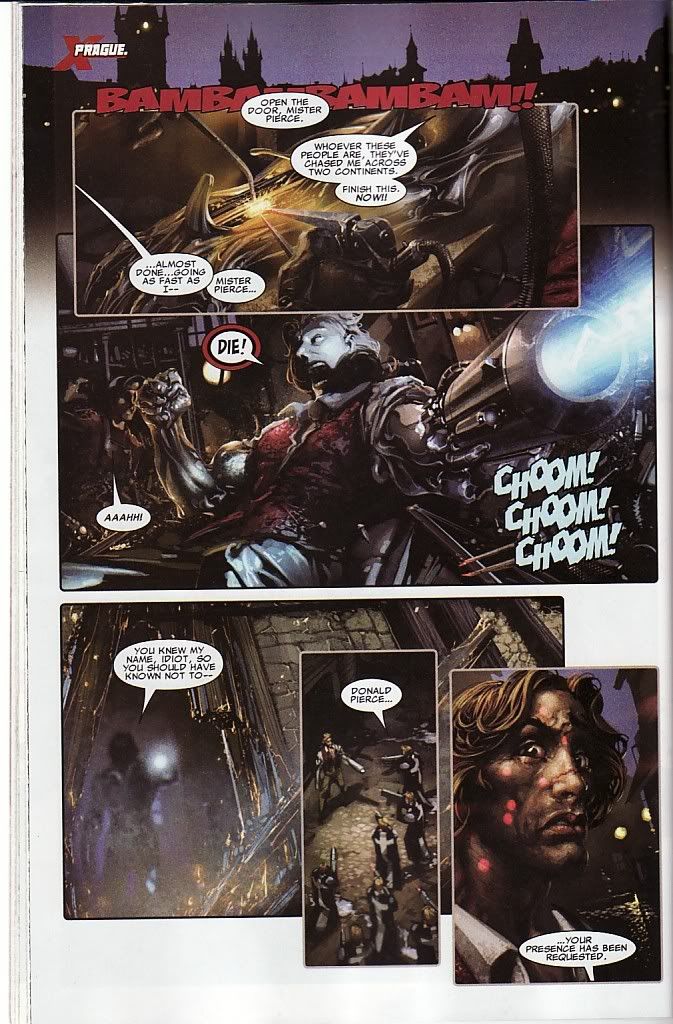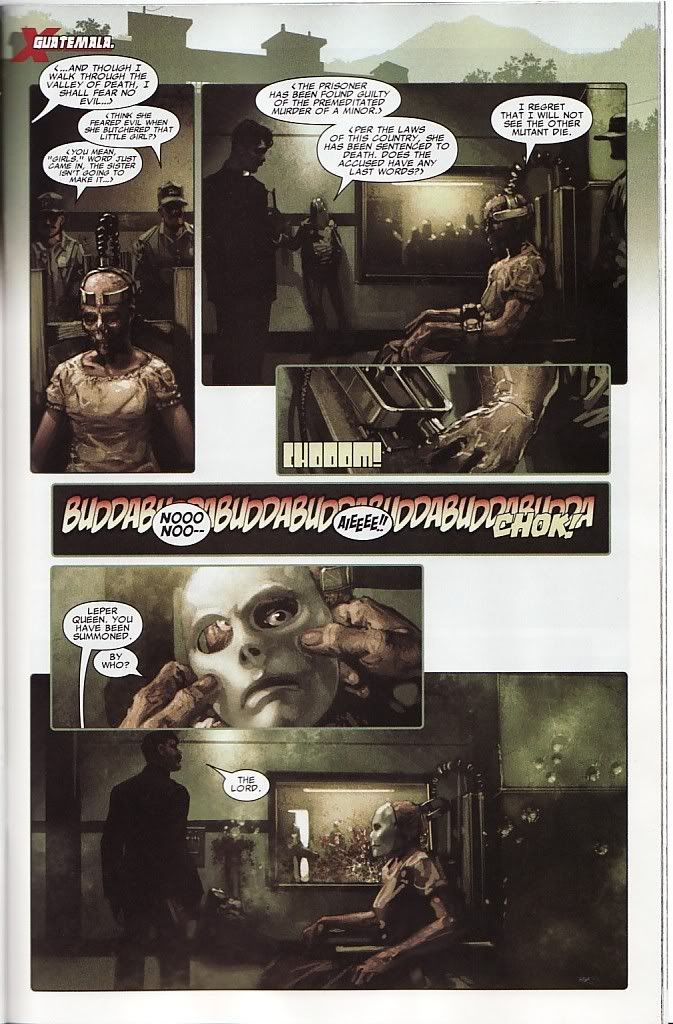 I'm going to do some back pedaling after this one, but Bastion's plans are just ridiculous. Matter of fact you might think Yost and Kyle (the writers) were stealing ideas from Abnett and Lanning's Nova/Annihilation series. Bastion finds the offspring of Magus at the bottom of the ocean and uses it to infect; Donald Pierce, The Leper Queen, Cameron Hodge, Stephen Lang, Bolivar Trask, Graydon Creed, and William Stryker with the Technarch transmode virus. I refuse to believe that every sentient A.I. life-form in the Marvel Universe has this idea in mind. Whether they do or not Yost and Kyle have used this as Bastion's ultimate plan for the future of humanity. It was funny to see the new Technarch cast in the Marvel U, especially since most of them should be dead, including Donald Pierce. The last time we saw him he was getting his head knocked off by Sebastian Shaw. This is Bastion's plans and I don't think Risman will agree with his assessment that this is the best option for the future of humanity. He is already great disturbed by Bastion's ungrateful attitude and unwillingness to follow through on William Stryker's plans, which he follows through without Bastion's knowledge.




Risman's plan remains a lot more eccentric, but it isn't too different from Bastion's funny enough. Using a drugged Wolfsbane as a pawn, Risman manages to get a hold of Angel's wings in rather gruesome fashion. It's unclear at this point whether Wolfsbane did this of her own accord or whether there was some sort of doping or brainwashing done to her while in captivity. By whatever means the Purifiers and her father used during her capture she brings them the wings of Angel. At a lab the Purifiers are able to extract Apocalypse Strain bonded DNA and infuse it into members of the Purifiers who grow metallic wings similar to what we once saw Angel bearing as Archangel.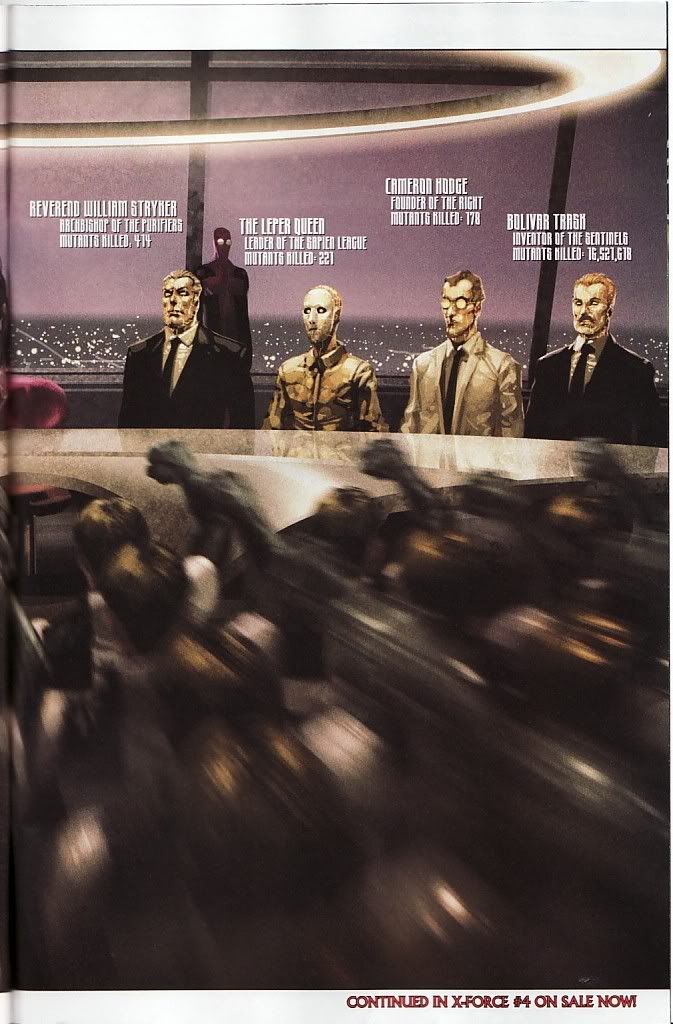 Now here is the kicker, after Angel loses his wings they begin to regrow, but that is not all, they begin to transform him completely into Archangel. As X-Force #4 ends he has a rather menacing look upon his face and I can't say what his intent is. If he is going to join X-Force as Archangel then this looks like the very colorful pairing. Certainly a title I will be picking up from month-to-month. I can't really say why Risman would wantt o possess this Apocalypse strain as it just appears symbolic in nature. Archangel's abilities are not that great in my opinion, but it will be interesting to see how this ultimately plays out in the pages of X-Force.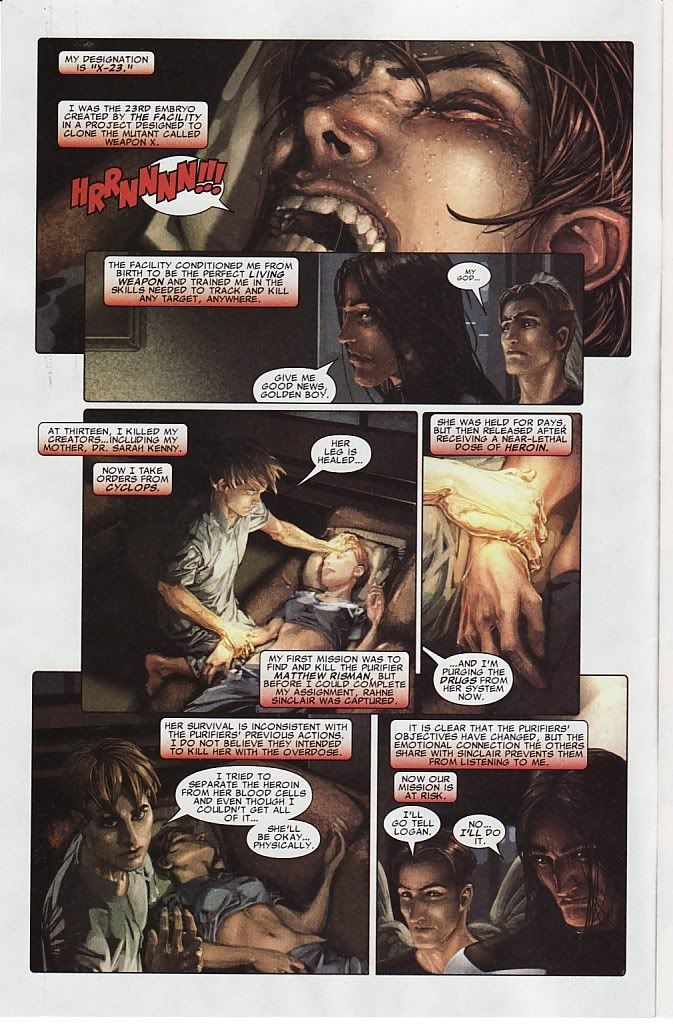 I have to say Kyle and Yost are doing some excellent work with a revitalized X-Force. Not too many events in the X-Men Universe can get me to pick up an X-Title, but the story thus far is great and the visuals by Crain are just so visually appealing. This would definitely not be a series you would pick up for your child as Death and Violence are obviously of no concern to Kyle and Yost. At one point in the visuals Wolverine is heating up his claws threatening to use them to cut a Purifier limb by limb. I even remember faintly a visual of an impaling, not sure who at the moment, but one of the three; Wolverine, Warpath or X-23 was doing the impaling.




The art has such dark tones, but the colors are what brings the pages to life. Aside from all the blood stained claws and blades the art is great, just look at the pages of Bastion and Risman. Archangel looks gruesome and like a war horse of Apocalypse for the first time since I have ever seen him. The imagery definitely defines X-Force as the team that must do what X-Men would never cross. As Wolverine says to X-23 and Warpath;


"…You do this, you're NOT X-Men anymore. You may be on the TEAM, you may be standing next to Beast and Angel and Iceman, but you won't be the SAME as them. Not after this."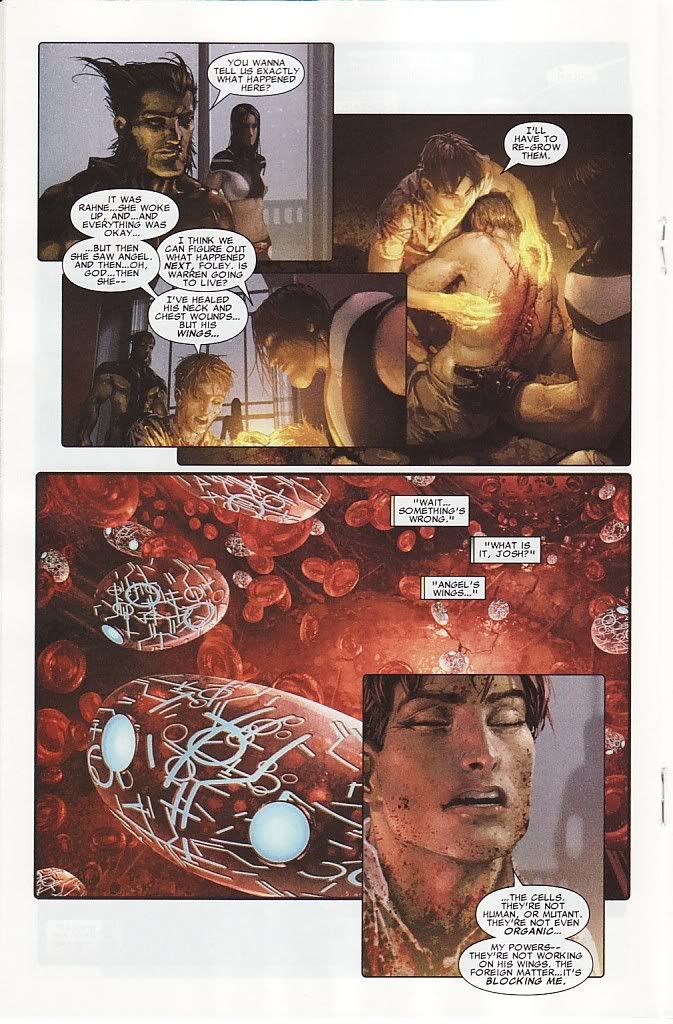 I hope you enjoyed this review. I am seriously hyped about this series. Please leave comments on what you think about the new X-Force. Now go to your local comic shop and pick up this title. Vote for Darkseid's Revenge on VSNetwork. It's right there in the right column, you know you want to. Also check out Darkseid Revenge on TCGplayer for Batman R.I.P, this title just keeps rolling on and the story has finally picked up.




This is gong to be a blockbuster week for Darkseid Revenge i promise you that. Prepare for a review everyday beginning Thursday afternoon. Skaar, Son of Hulk #1, The battle between the Silver Surfer and Richard Rider in Nova #14, The search for the lost Eternals continues in Eternals #1, Cable's journey with the first mutant born since the events of M-Day in Cable #4, Secret Invasion roars loudly as it dominates (atleast for me) against Final Crisis in Secret Invasion #3 and more. You can catch reviews of JSA #16 and Trinity #1 over at Darkseid Revenge on TCGplayer, its in the Blog roll, check out Batman RIP there as well.

Vote for Darkseid Revenge also join me for Comic Book Discussion on TCGplayer.