4.23.2008
Thor #8 has hit retail store shelves today. This concludes the two-part story arc of "Father Issues." I don't know how to sum up Thor #8; to some it will be a great ending to a story arc well-written by Straczynski, to others it will just be the end to a boring storyline. It all depends on how you view your comics and what you expect out of each issue. This story arc has not been jammed packed with action like some of the early issues, in fact you could say the action takes a hiatus in order to delve deeper into the characters and answers questions that are probably really having people scratch their heads.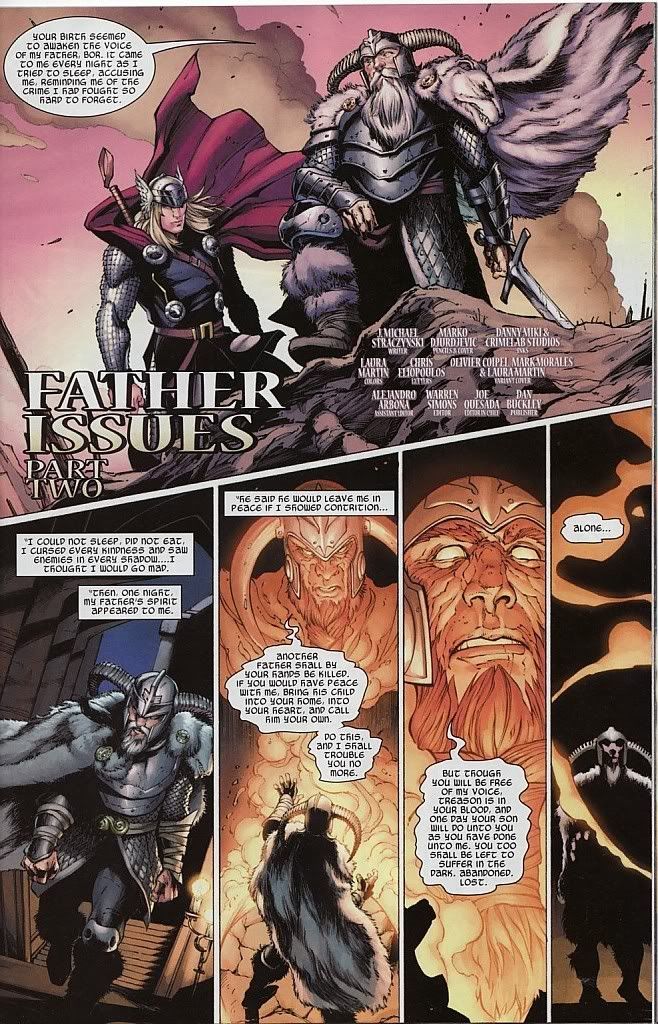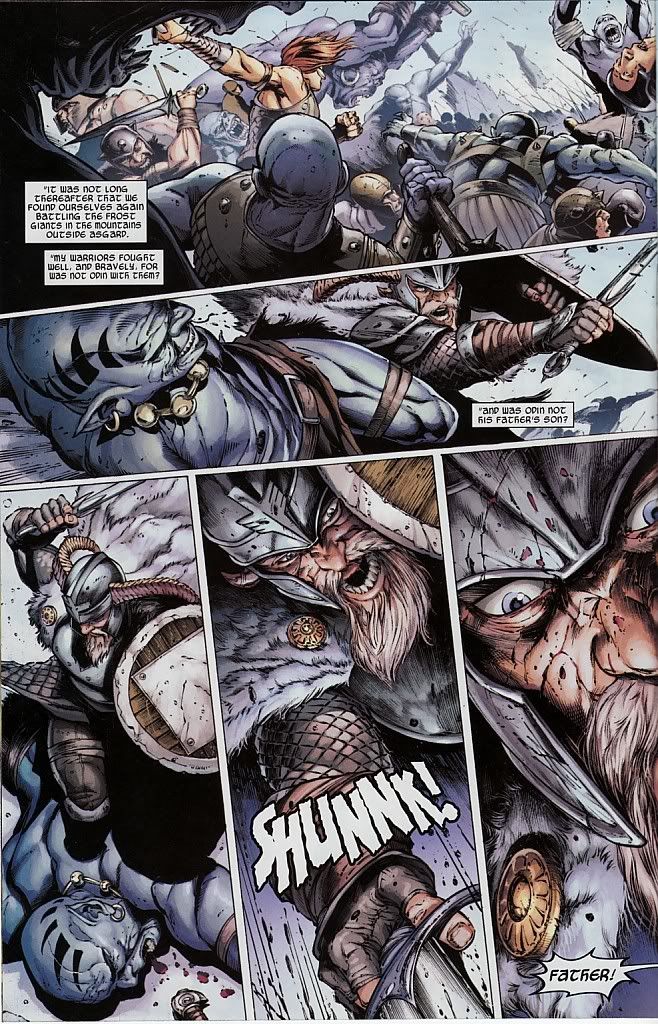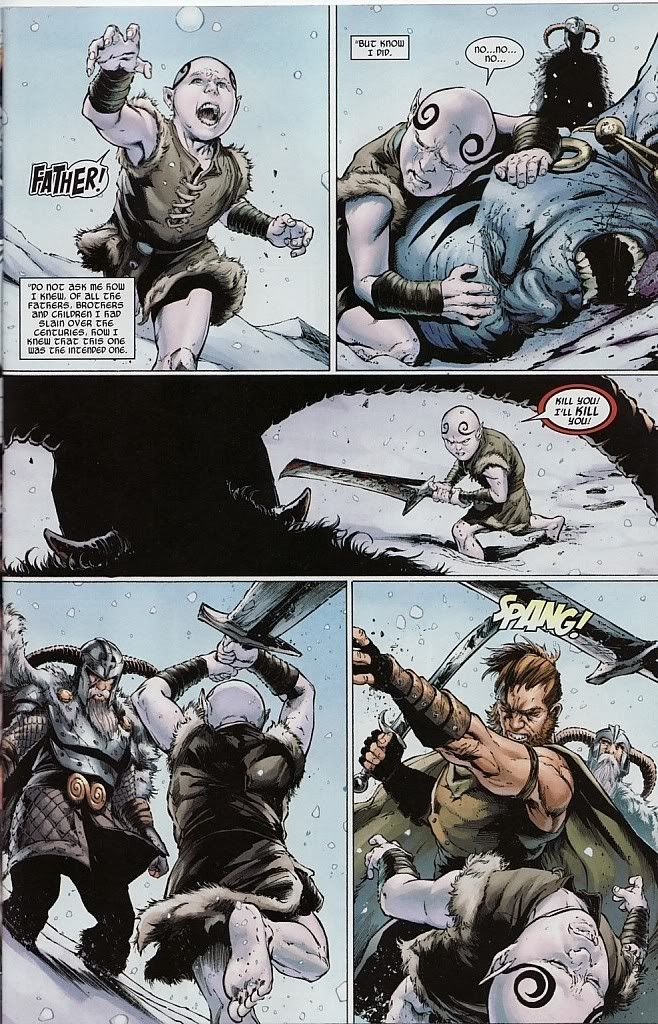 Where is Sif? What is the Deal with Odin? Where is Odin? What is Thor's role now as King of Asgard? What is Loki scheming?

Well you get the answers to all of these questions. What is really great about Thor #8 is how close I felt to Straczynski and his ideas for the character. For those who have read any of Straczynski works or viewed Babylon 5 you will probably see a lot of his storytelling method's come to light here. The one common denominator since Thor #1 has been Thor and Sif, he really loves that woman and Straczynski is doing well to make that clear. I had to go back and read previous issues, but this is a foreboding love story. Everything Thor has done thus far is about his desire to see Sif again, sure raising the rest of the Asgardian's is also part of the plan, but he really yearns to see this woman.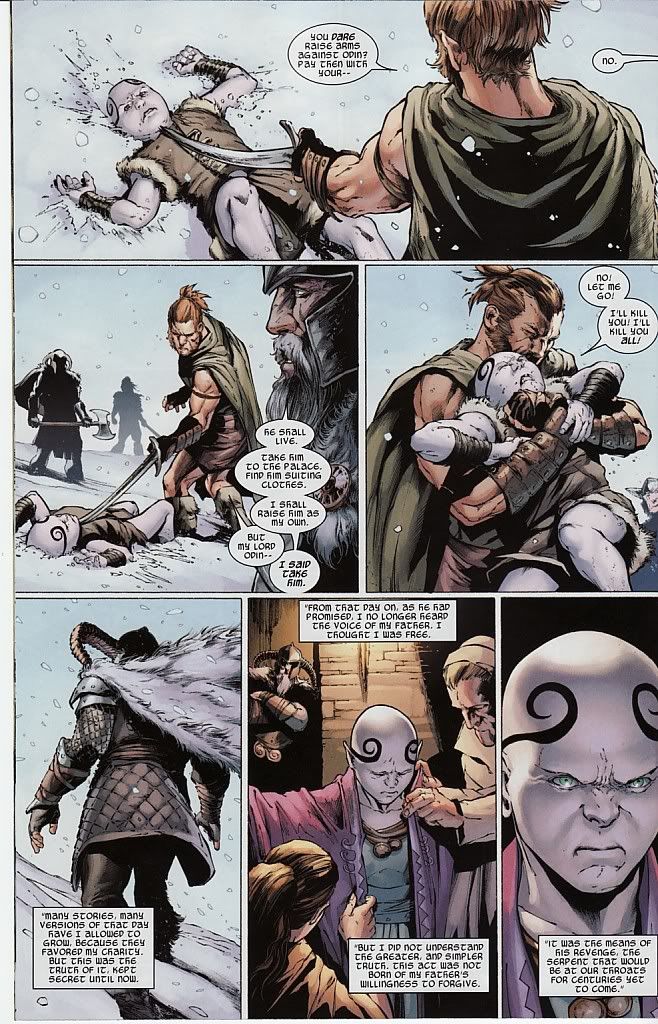 This point is made so clear that Donald Blake travels to New York to visit Jane Foster to see if Sif is residing in her. What's funny is she is right in the hospital under Jane's care as a dying old lady and Loki knows. The question now is will Thor realize it in time to free her from her mortal form or will she be lost forever.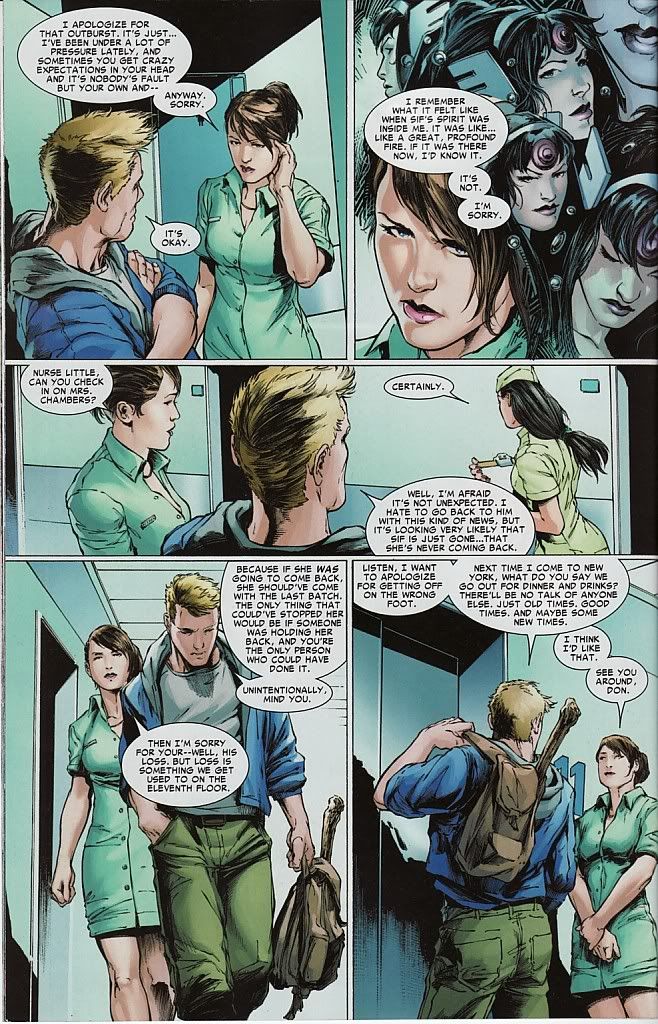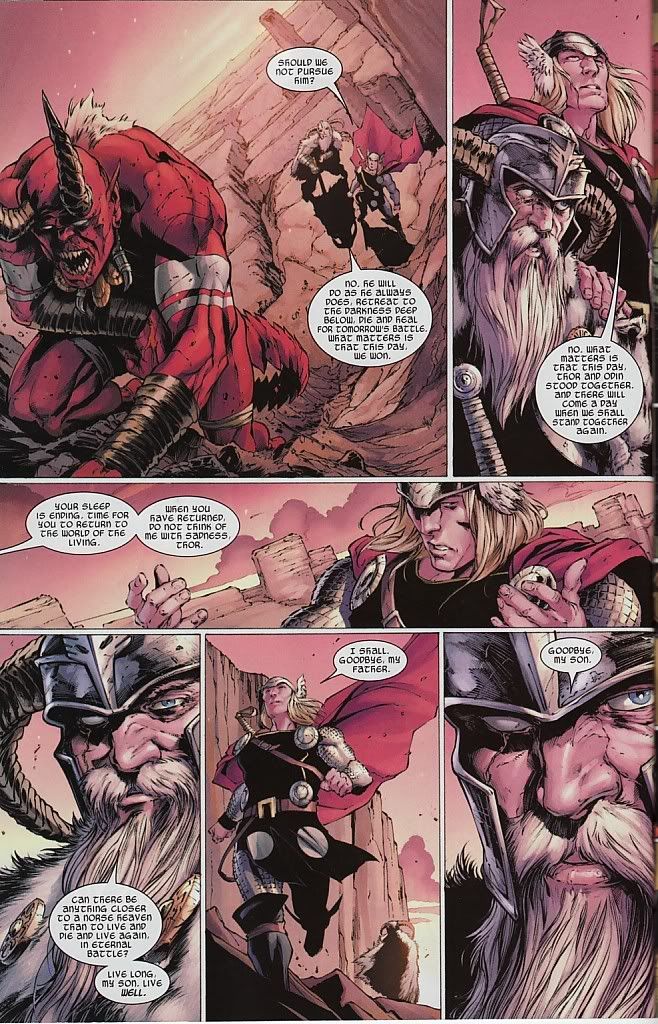 Other than that we got answers about Thor's relationship to Odin and more what Odin feels about Thor and his place in Asgard's rebirth. We pretty much got the back story to Odin in this story arc and that was exciting enough for me to be truthful. Odin locked in combat with Surtur for the rest of eternity sounds like something that is cool, the fact Thor will see him whenever he is resting also is kind of weird, but it definitely can be used as a new Father figure role for Odin and a new spin on their relationship.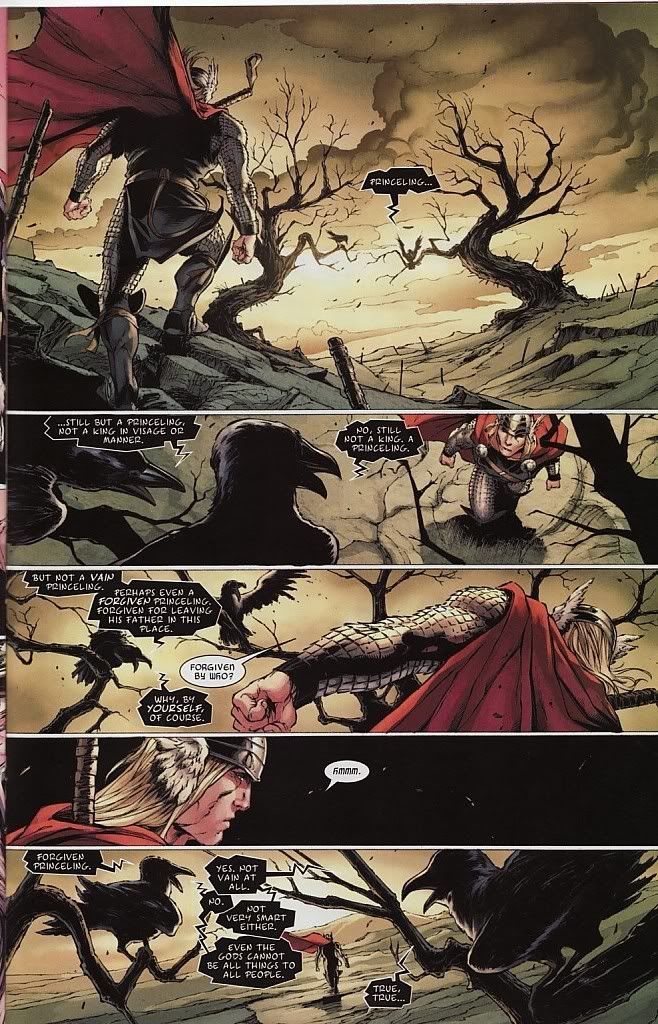 Personally, I like where Straczynski is taking the character and I am happy with the story arc. I rather have good storyline that delivers the character into my mind than hammer tossing every issue. The one problem I had with the issue was Djurdjevic's pencils they just really fell flat. There just is nothing dynamic about them, I wasn't excited about them when he took over and this issue clarifies for me why I didn't like them. Even the cover seems off, Thor on a Horse? The panels where Thor and Odin are fighting Surtur seem plain and dry. His art gives a solemn kind of feeling to everything which I guess in some parts fit, especially dealing with Straczynski writing. I am definitely happy that Olivier Coipel is returning with the next issue.

MUN Preview: S.H.I.E.L.D. Helicarrier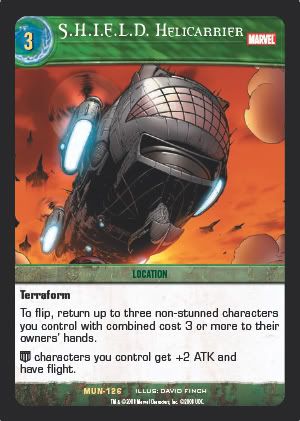 Ok, as a tag to this comic review we have today's preview card as well, SHIELD Helicarrier. I can't say I am excited about this card in the least as again it is pointing to a weenie rush theme with the SHIELD team and I don't very much care for rush decks. Bouncing 2 characters to hand to gain +2 ATK and Flight isn't bad however, especially when you start mixing this thing with teams like Kree. I am sure we will see a team up or two to abuse this and the press mechanic. So you could get Dr. Minerva back in hand with some goodness along with those SHIELD agents.

The Fallout Shelter previewed the card on their podcast which can be downloaded over on VSRealms.com. They had better things to say for the card than I did, but it is all opinion. Tomorrow I will post up the first of many reviews for the Mighty Avenger. I was hoping to have Thor #8 and his preview up at the same time, but alas most unfortunately that was not the preview today.

MUN Preview: Thor, Cyborg Clone




This is the first entry we have for Thor since MAV and i am not impressed, granted this is a Clone Thor, but it is still Thor. At 17/14 stats its a pretty big 7 drop you would assume, but by comparison to most of the 7 cost characters released in the game like Punisher, Juggernaut and others this isn't that gret. He is defintely a target for Blinding Rage since he has such low defensive stats which means he is probably going to be stunned by even a 6 cost character. I don't think this card warranted being a rare card in all honesty.

First even though the team has a return to hand theme the question still becomes how many characters in hand are you possibly going to have going into turn 7? The likely odds are that you have set up and have perhaps at tops 3. Thats netting you 3 new cards and 3 endurance burn, that isnt that great, when you consider some of the other 7 cost possible game ending effects that are on other 7 cost characters. Even if you have the idea that you are possibly sitting on a bunch of SHIELD army characters in your hand the possibility of you haveing geared play arounda 7 cost character is not that high, you are more than likely looking at a weenie rush theme and that is game on 5 in most scenarios.

Second, as late as this effect comes on the board it probably should have been relegated to an uncommon print. You are basing a whole combo on this effect. The team looks something like a Kree press effect, but having anythign more than 3 cards in hand seems like it was planned.

I love the artwork. As a matter of fact we used some of the same imagery from civil war for our VS Reflections Clor. I am looking forward to another Thor entrant into the Marvel Universe set atleast maybe a hint at some Marvel Evolutions Thor goodies.