4.02.2008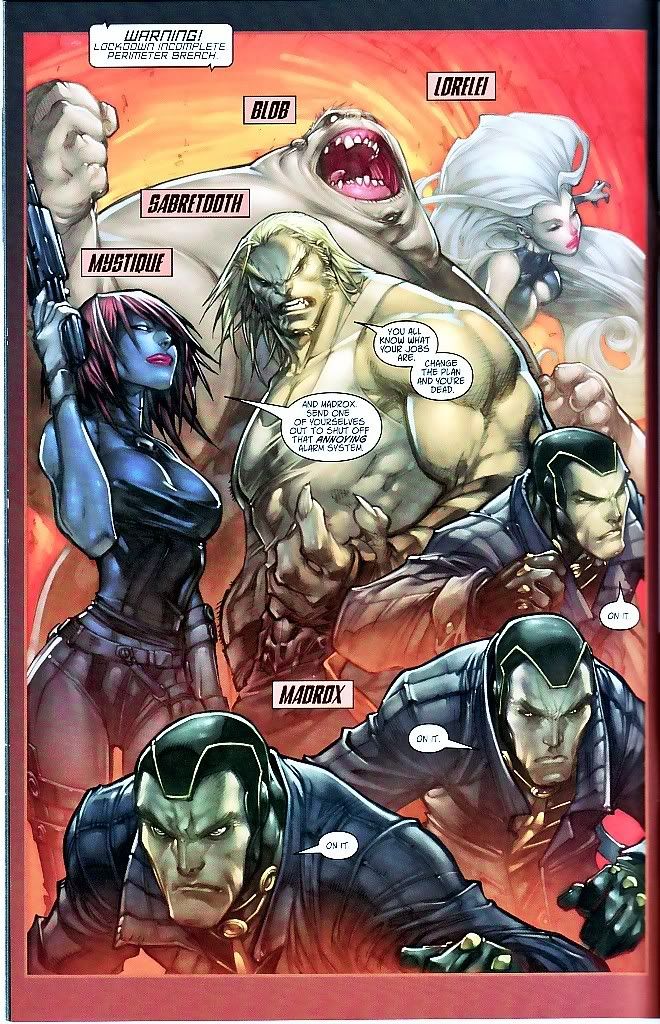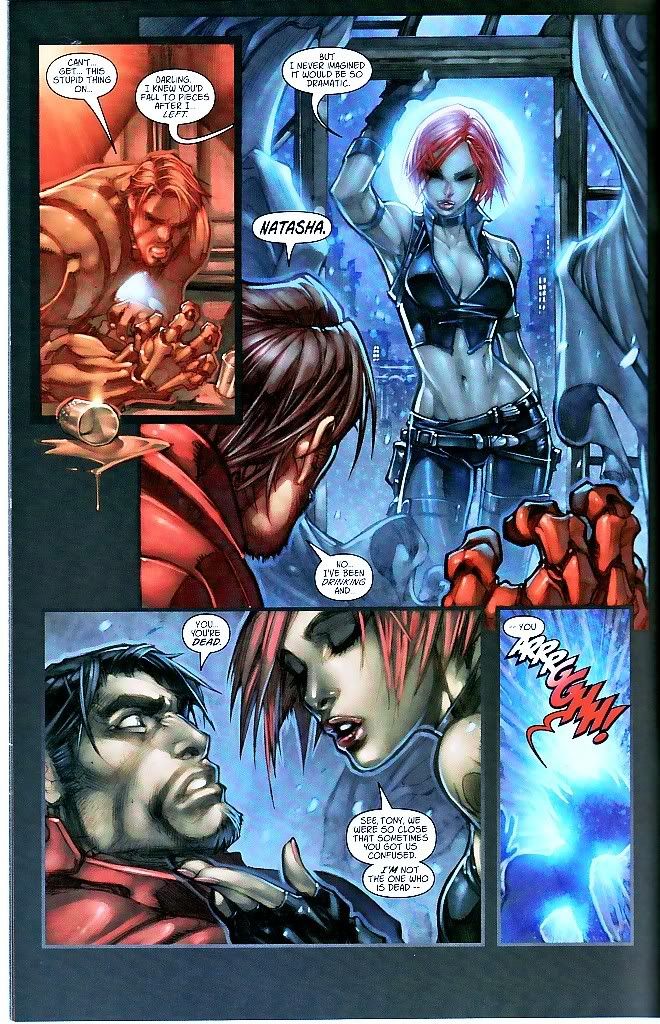 This week I was supposed to start writing about the "Divided We Stand" series, but I couldn't bring myself to write about any of the entries in the series, not even Cable #1, which I felt was garbage. I feel really bad about promising this series to those who have started frequenting the blog, but I have something better… "The Ultimates: March on Ultimatum: with more scans available for view.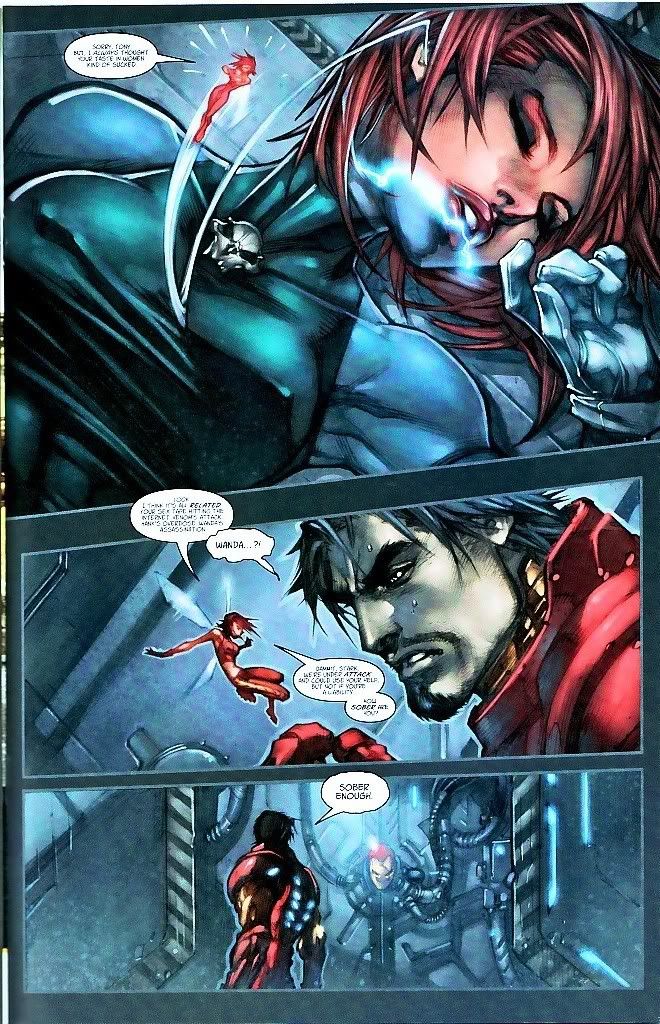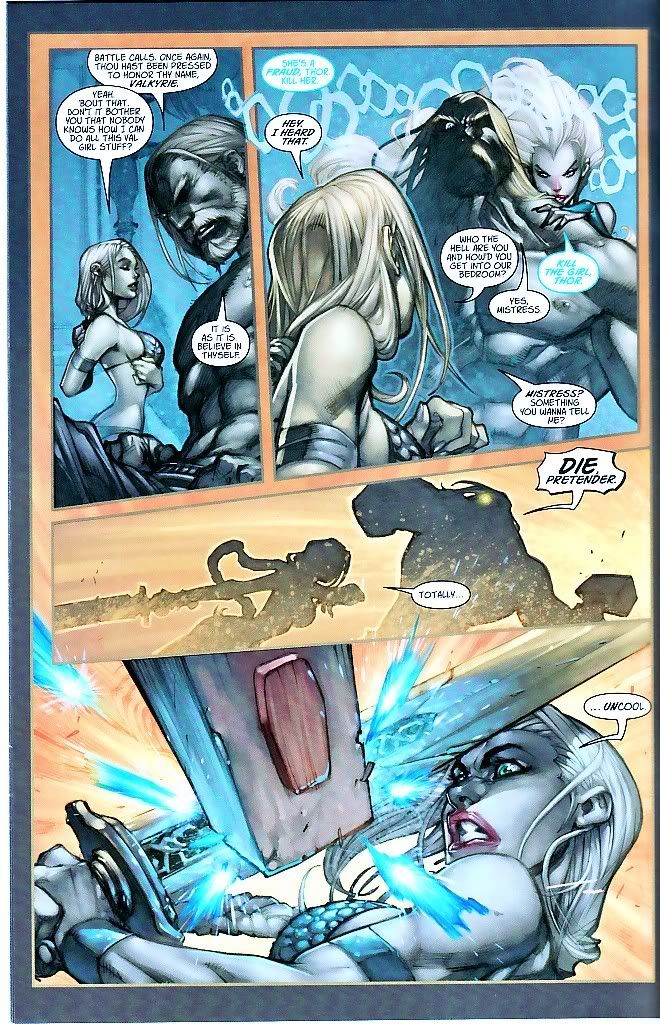 This is probably one of Marvel's best series. It is 3 issues into the scheduled 5 issues installment, but definitely worth picking up back issues for the art alone. The Ultimates is written by Jeph Loeb, illustrated by Joe Madureira and colored by Christian Lichtner. It doesn't take place in the Marvel Earth-616 universe, but that was intentional as it opens the possibility of the storyline and character creation. The Ultimates Universe is definitely more realistic and darker than the 616 universes if that is even believable. The illustrations are definitely more "adult" as are the character reflections. Where this might turn off some who revere their heroes as wholesome do-gooders for those like me it resonates with a hint of truth.




For instance In the Ultimates Volume 1 the team is out together by Nick Fury. Bruce Banner injects a serum in order to become the Hulk, which send him on a rampage through Manhattan killing hundreds, he is subdued, but unleashed on the alien shape-shifting Chitauri to win. Many of you have seen this come to life on the Avengers animated DVD's.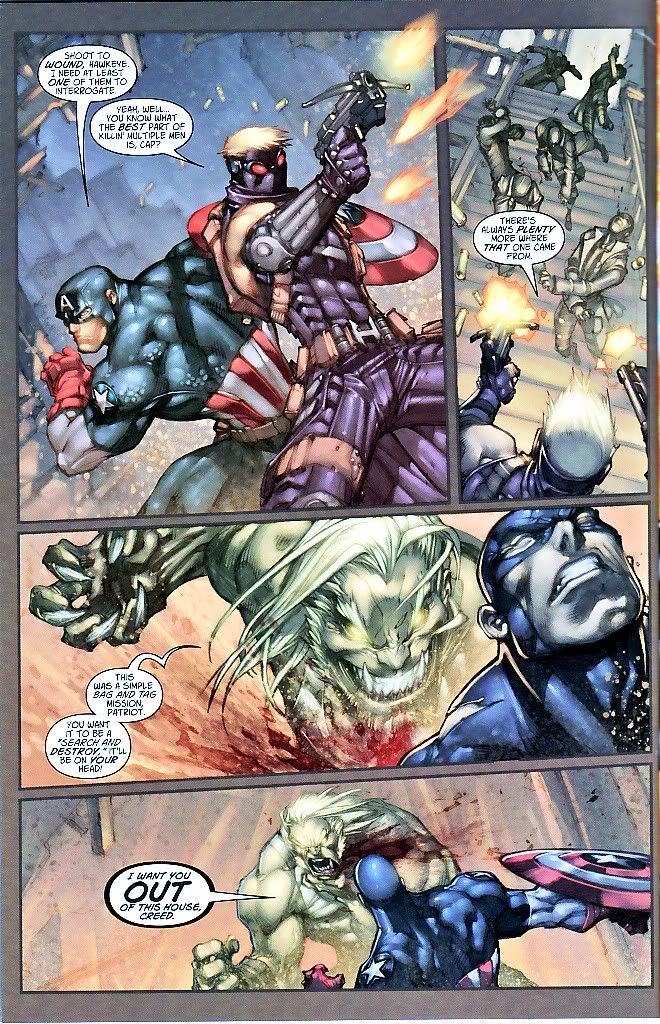 In Volume 2 public outcry against the Ultimates has major impact when it was discovered that the Hulk was a member of their team. Thor was accused of being an escaped mental patient instead of the thunder god he claimed to be. Loki was found out to be the master of mayhem behind all of this. Only through Thor and his fellow Asgardian's was Loki defeated.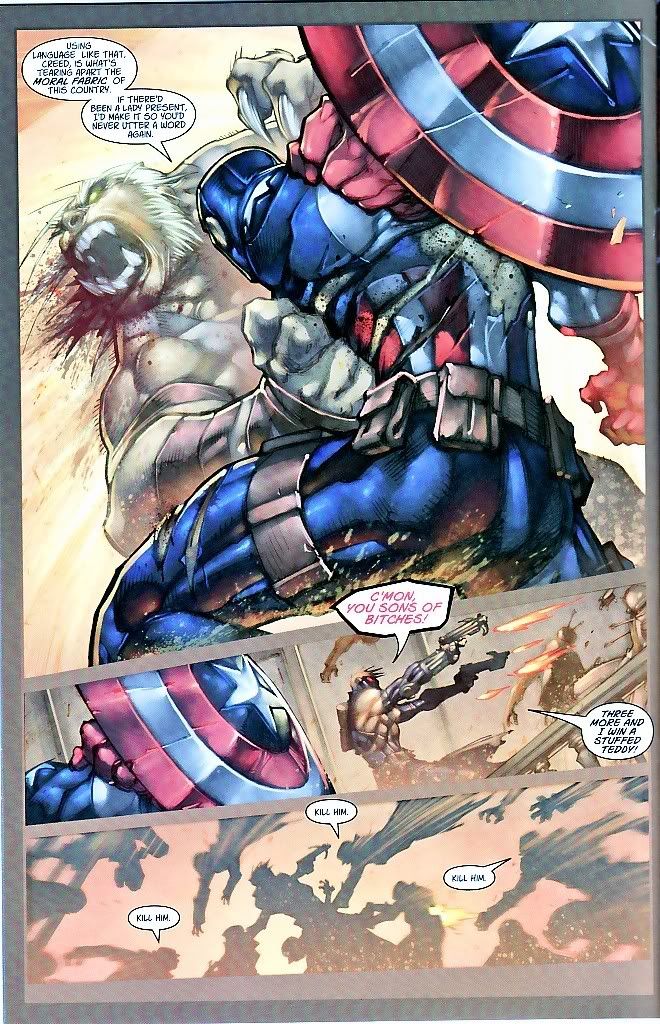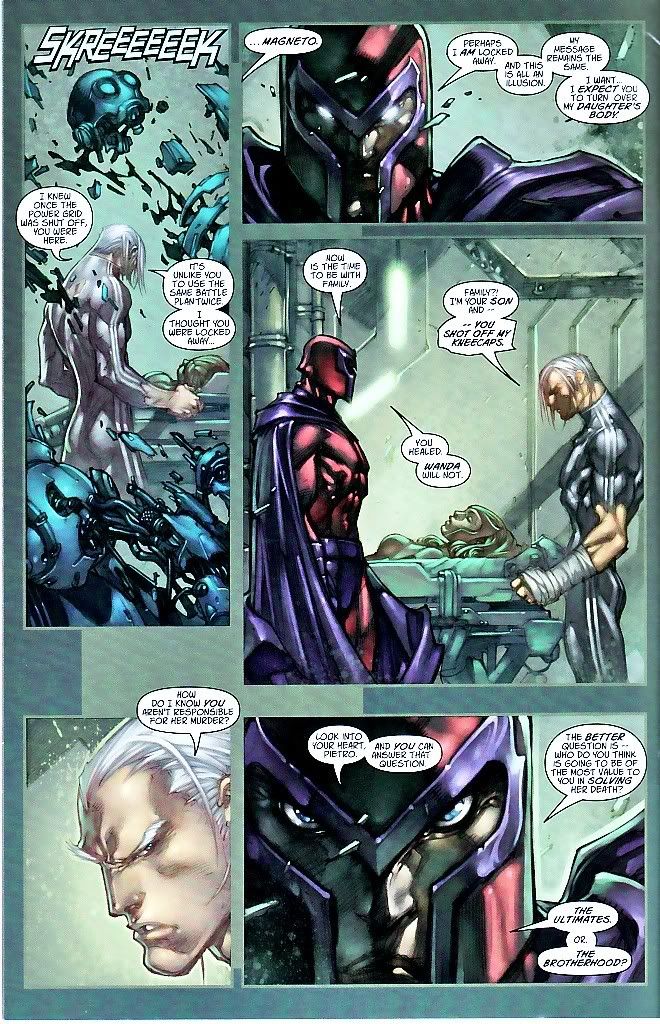 In Volume 3 the series really picks up the heat.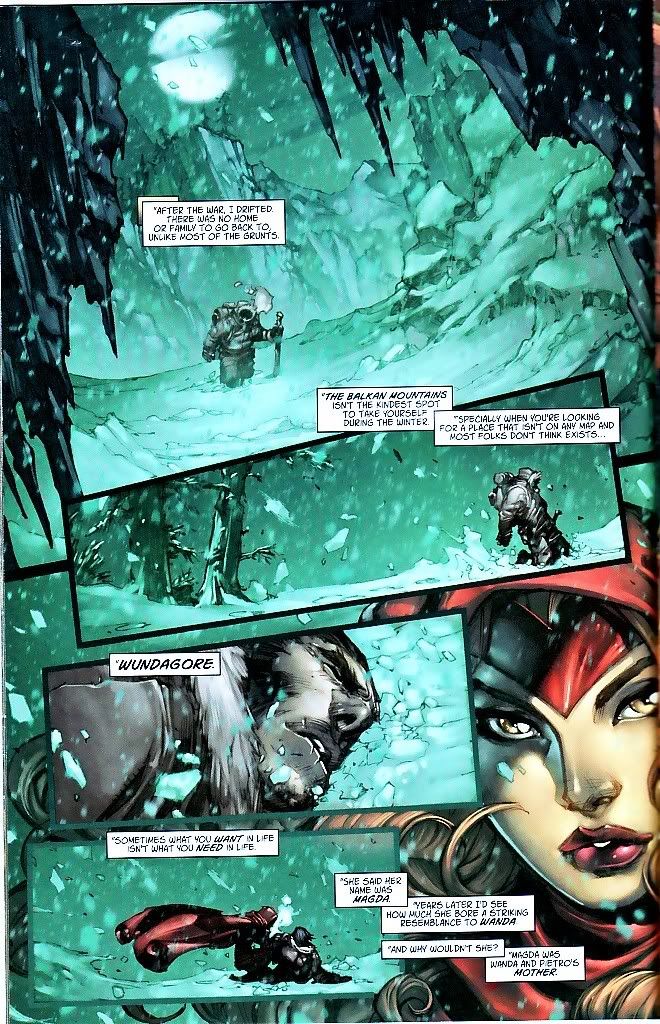 Ultimates 3 #1 was entitled Sex, Lies and Videotape. Tony Stark is on tape having sex with the Black Widow and it's all in the media. Tony is still the drunkard that he is in the 616 universes, but it's because of this incident. Even weirder is how Thor has begun a relationship with Valkyrie who is a hot 19-year old in the series. Venom attacks Stark's mansion where all the Ultimates are now headquartered. Scarlet Witch is shot in Manhattan while touring the city with a bullet coded for her and her alone while with Quicksilver, who wasn't fast enough or capable of stopping it. That is all in issue #1.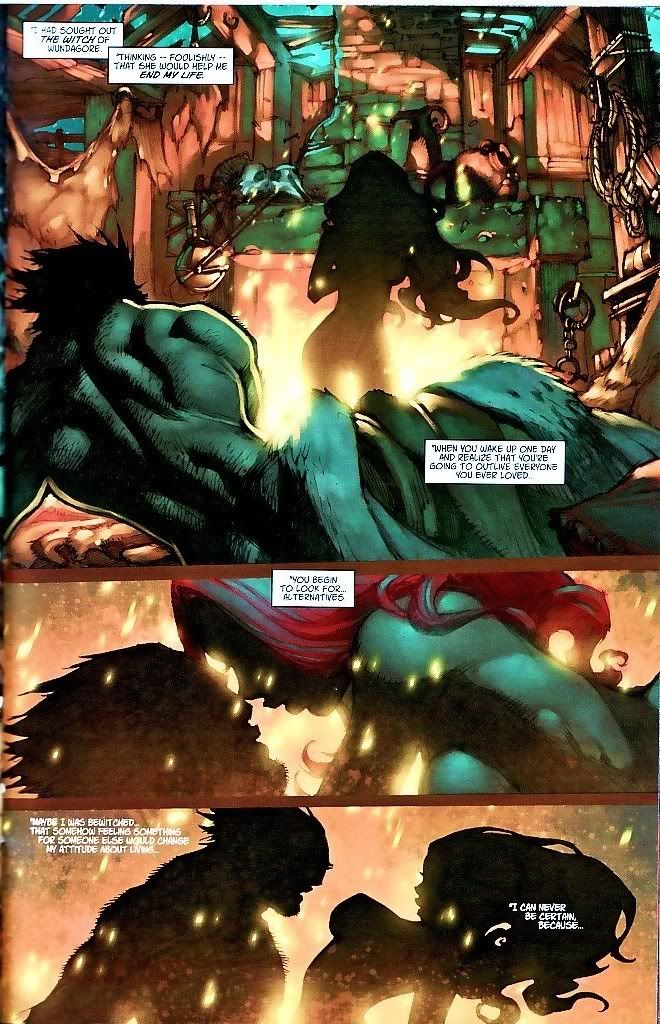 Ultimates 3 #2 continued with a bang as the Brotherhood attack the mansion, led by Magneto who persuades Quicksilver to work with him take Scarlet Witch's body. Where the Ultimates do not know. This issue was laced with combat that was beautiful illustrated. I couldn't help but plaster these scans. Hawkeye and Captain America squaring off against Sabretooth. Iron Man vs. The Blob and a mind controlled Thor throwing fist with Valkyrie. Just check out the panels. The color commentary is enough to let you know this isn't the reading material of an adolescent. I love it.




Ultimates 3 #3 I thought would slow down the tone and tempo, but I was proved otherwise, instead things steamed up. Wolverine unravels a tale of Babies Daddy Drama with Scarlet Witch's mama. He and Magneto both apparently saddled Magda and his guess is as good as Magneto's as to who the father is. What's worse is the incest woven tale of Quicksilver and Scarlet Witch. The issue leads off with the team taking off to the Savage Land to find Scarlet Witch's corpse and the brotherhood. All this, but there was more, Iron Man isn't Iron Man. He is a robot, is it Ultron? Who knows, but mystery and suspense seems to be in every chapter of this series and it is definitely one I would not miss for the world.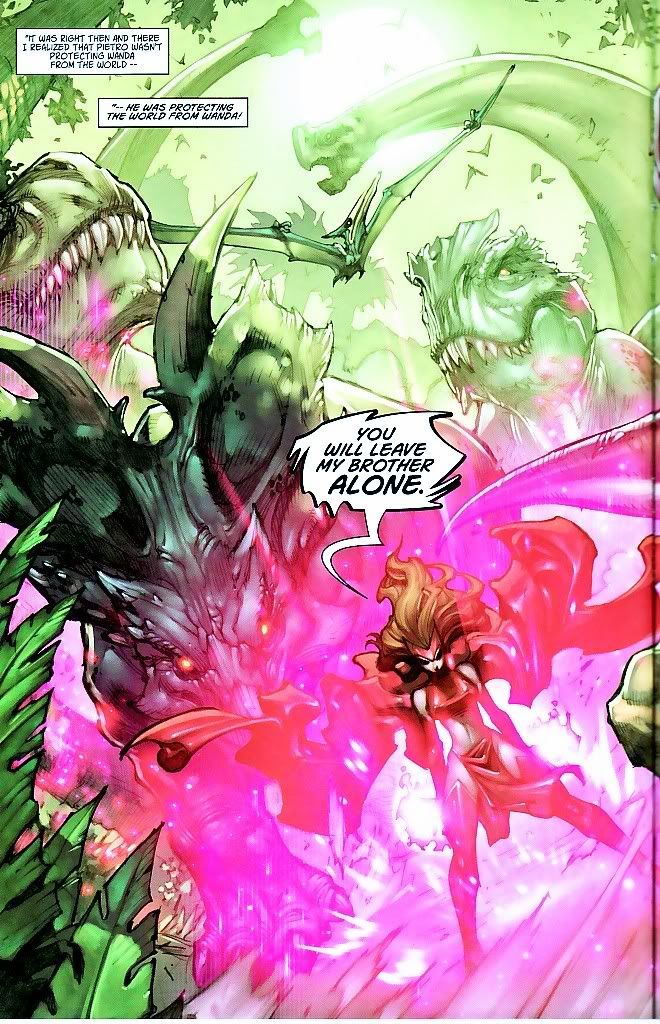 I hate to say it, but I haven't read a good issue of "Divided We Stand" in any of the crossover series. The Ultimates are definitely not your superhero Avengers the way you are traditionally used to seeing them, but it ain't bad that's for sure. Cable #1 was very lackluster and I will get into my review of that after Cable #2 is released this Wednesday, but for now enjoy the scans and commentary provided by Darkseid Revenge.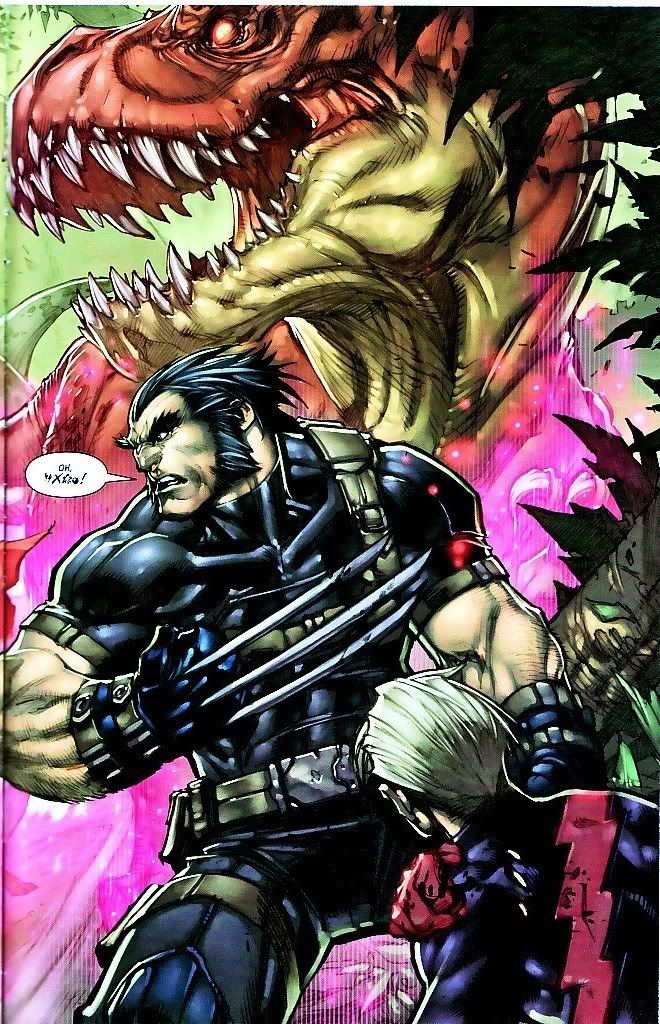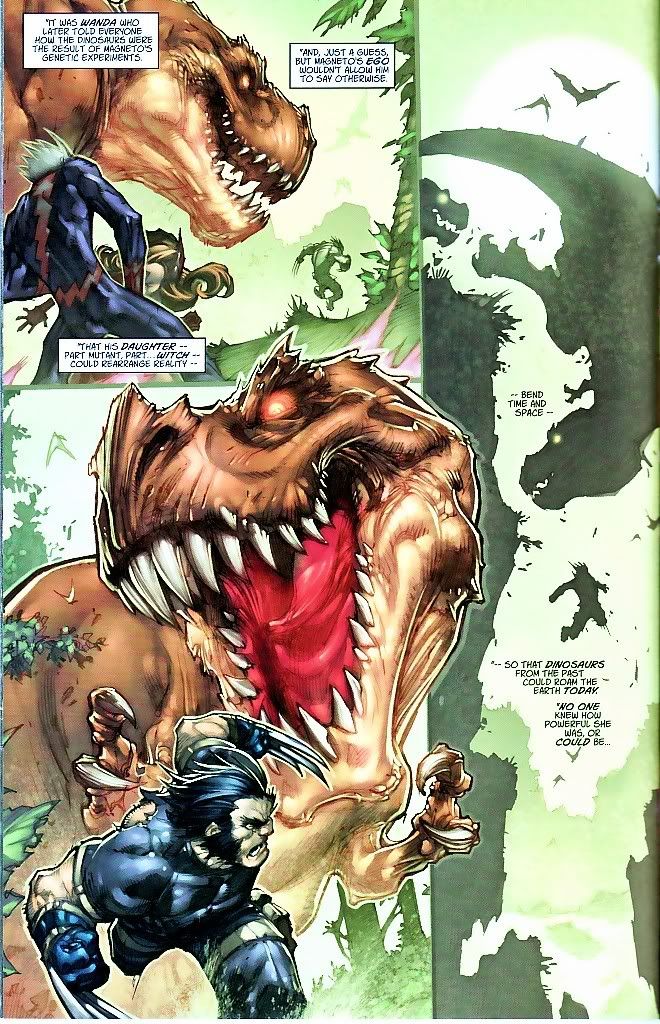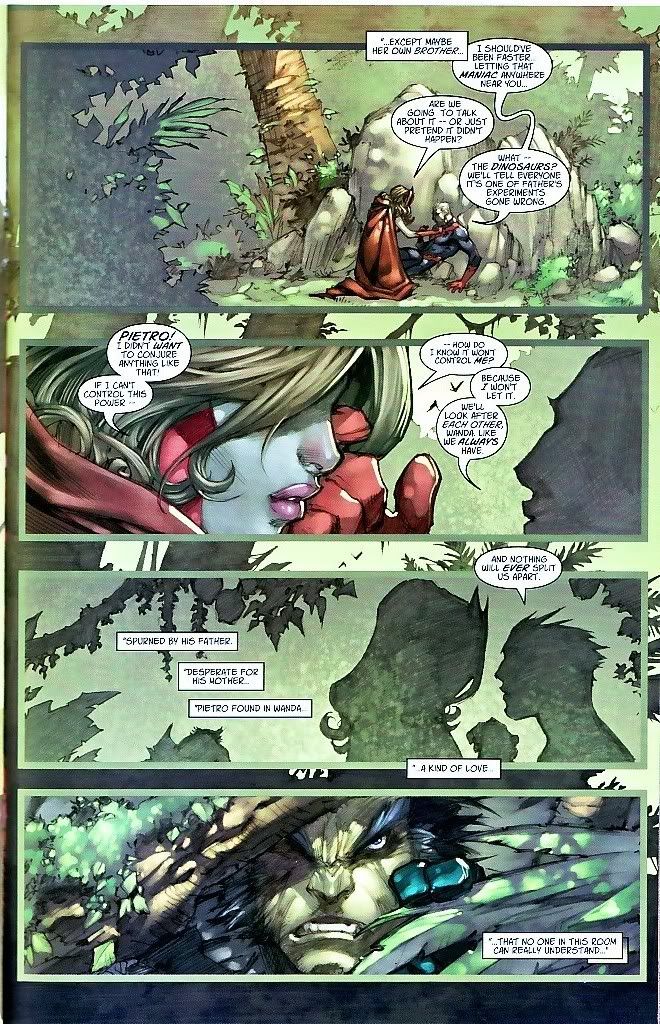 As an ending note. I ask that visitors please leave comments about the scans and how they are helping the reviews.

Vote for Darkseid Revenge and/or
Get The Latest on Darkseid Revenge